Webster Graduate Nominated to Key White House Administration Post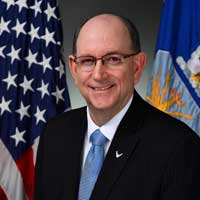 ST. LOUIS - Retired Colonel Matthew P. Donovan, who graduated from Webster University at Fort Sam in Houston with an MA in Management from the George Herbert Walker School of Business & Technology in 1995, was chosen as the nominee for Under Secretary of Defense by President Donald Trump. Trump announced the appointment last month.
Donovan is currently serving as the Under Secretary of the Air Force and is stationed in Virginia. Before that, the colonel briefly served as acting Secretary of the Air Force, from June to October 2019.
Donovan previously was part of the United States Senate Committee on Armed Services as Majority Policy Director and Professional Staff Member, where his responsibilities included advising the Chairman on regional affairs and legislative policy and the oversight of the Department of Defense's numerous aircraft programs.
During his Air Force career, he served more than 30 years on active duty as a fighter pilot as well as in numerous other operational and staff positions. After his retirement, he became the Senior Defense Policy Analyst at Science Applications International Corporation and worked in several Air Force positions as a civilian.
Throughout his career in the Air Force, Donovan was the recipient of numerous medals and awards, including the Defense Superior Service Medal, the Legion of Merit, the Defense Meritorious Service Medal, and the Aerial Achievement Medal. He earned his bachelor's degree from Regis University and holds master's degrees from Webster, the United States Air Force School of Advanced Airpower Studies, and the United States Army School of Advanced Military Studies.