Interim CHRO Doug Rau Departing Webster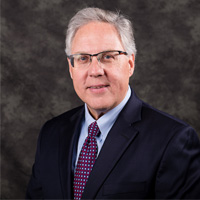 Doug Rau, interim chief human resources officer, will depart Webster University at the end of August to pursue another project outside of higher education. Rau has served as the Interim leader for Human Resources since January 2019.
"I want to thank Dr. Stroble and Dr. Schuster for the wonderful opportunity to serve Webster University," Rau said. "While I was part of the organization for only a short time, I was truly impressed by the professionalism of the mission-driven faculty and staff that work so hard every day to create a quality educational experience for Webster's students. Please accept my sincere appreciation for the friendship and the tremendous cooperation and support for HR by the global staff and faculty."
"I appreciate the leadership and stability provided by Doug Rau and the dedication of the Human Resources staff as we moved the work of the university forward in recent months," said President Elizabeth (Beth) J. Stroble. "During this time of transition following the passing of Steve Winter, we benefitted from Doug's knowledge of strategy and operations. I thank him for the expertise he has shared with us and for helping us prepare for a search to identify the next Chief Human Resources Officer. "
"In a short amount of time Doug has made a significant impact on Webster," said Julian Schuster, Webster's provost, senior vice president and chief operating officer. "Our operations and our people will continue to benefit from his contributions as we refine our resources to best serve current and future students."
A search for a new HR leader be launched soon. Rau will be available through Aug. 30 to support the transition. More information will be shared about the search and next steps when available.