Webster Vienna Hosts Panel on Gender Equality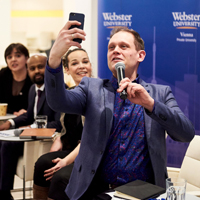 Focused on this year's International Women's Day theme of "Each for Equal", Webster Vienna Private University's Working Group on Equal Opportunities hosted an introspective panel discussion addressing the theme and exploring what we as individuals can do every day to promote gender equality within society. Moderated by WVPU's own Media Communications Department Head, Bradley Wiggins, and joined by professionals working on this topic every day, the discussion raised questions and encourage deep thought about gender equality in the 21st century.
The panelists included Martin Dexborg, Advisor on Gender Issues at OSCE, Yvonne Prinzellner, a Researcher of Gender & Diversity in New Media, and Rania Ali, a Student Journalist currently studying International Relations at Webster Vienna. The event was open to the public and in addition to a Q&A, included a networking reception. Those who missed out have an opportunity to join us next year at the annual event.