Lenz' Photo Included in Eclipse Megamovie; Vote for 'Calvin and Gorlok'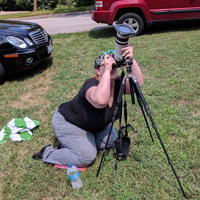 The solar eclipse brought almost 1,000 people out to the home campus.
It also brought out the inner photographer among faculty and staff.
In addition to the stunning totality shots and event photos captured by Inocencio Boc, manager of photography services in Global Marketing and Communications, faculty and staff took their turn capturing and sharing photos on social media via the hashtag #WebsterEclipse.
Some submitted their work to regional and national projects capturing the eclipse.
Lenz' Photo Part of Google Eclipse Megamovie
Kristi Lenz, project manager/business process analyst in Information Technology, took a vacation day to photograph the day's magic, leading to an inclusion in Google's Eclipse Megamovie 2017.
The Eclipse Megamovie Project gathered images of the 2017 total solar eclipse from over a thousand volunteer photographers and amateur astronomers. The photos were stitched together to create an expanded and continuous view of the total eclipse as it crossed over the United States. Out of the many photographers who submitted eclipse photos, Lenz was selected as part of this project, and her name is included in the credits.

Lenz first heard about the Google Mega Movie Eclipse project through a photographer friend, and since she had already decided to shoot the event, she signed up to participate. Lenz photographed the eclipse in Festus, Missouri. "I used a Canon 7d, a 18-300mm lens and a filter made from a sheet of solar paper sandwiched between foam board and attached to a red solo cup," she said. "Shooting the eclipse itself was an extraordinary experience, the 2.5 minutes of totality flew by and I felt emotionally moved by the event."
"When I found out that my images were included in the final movie—which is still a work in progress as I understand—I was very excited, having my hobby turned into something that allows the rest of the world to experience this amazing event is a nice feeling. I'm already planning what I'll do for the next one in seven years!" Lenz said.
St. Louis Post-Dispatch Photo & Video Contest: Vote for "Calvin and Gorlok"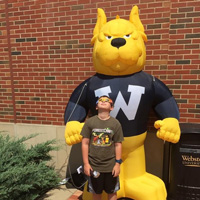 Cast a vote in the St. Louis Post-Dispatch Eclipse Photo and Video Contest for a photo submitted by "Tad" H.W. Biggs, II, adjunct faculty member in the Math/Computer Science Department. The photo, titled "Calvin & Gorlok," features Biggs' 10-year-old son, Calvin, at the University's Eclipse viewing event held on campus.
Biggs' ties to Webster go beyond his 19 years as adjunct faculty: his daughter, Madeleine, graduated from Webster this past May with a BA in International Relations, and his wife, Diane, holds a master's degree in Education from Webster.
The contest's grand prize is a "Have a Totality Cow" meat package from Kenrick's Meats & Catering valued at $265. Ballots may be cast daily through Sept. 4, and voters have a chance to win a $100 gift card from Twin Peaks Restaurants. Click here to view photos and vote.