Remembering Elizabeth Thurmond Robb, Alumna, Former Trustee and Webster Advocate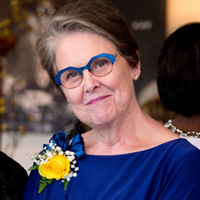 ST. LOUIS - Elizabeth Thurmond Robb, a pioneer in the St. Louis region for women-owned and operated businesses, a former alderman for the City of Clayton, a local leader for many charitable organizations, alumna, donor and former trustee and long-time advocate for Webster University, died on Friday, Aug 28, 2020, after a long fight with cancer. She was 76.
"Through many pivotal moments at Webster University, Elizabeth Robb's presence and leadership has been a constant. When she began her education, Webster was an all-girls Catholic college, but by the time she graduated, Webster was on the path to becoming an independent co-ed institution," said Webster University Chancellor Elizabeth (Beth) J. Stroble. "As Webster transitioned to a university embracing a global mission, expanding opportunities for an increasingly diverse student population, Elizabeth stayed true to her Webster education as a catalyst for change and a champion for equality.
"She said this about her alma mater: 'I believe in Webster University, period. I believe in what it offers, I believe in its spirit, and I believe that this university is unlike any other,'" Stroble added. "Because of Elizabeth's confidence in the university's vision and mission, we are equipped to educate future generations of Webster students to lead with knowledge and courage. I am grateful for her leadership, her generosity, and her friendship for me and for Webster."
Robb was raised in Hopskinville, Kentucky, as one of eight children to Hal Hart Thurmond and Ida Elizabeth "Bettye" Thurmond. She graduated from Hopkinsville High School in 1961 and enrolled at Webster University - then called Webster College - which was an all-women's Catholic college operated by the Sisters of Loretto in St. Louis, Missouri.
Robb would serve as class president at Webster in 1965 and would play a central student role in the groundbreaking of the Webster University Loretto-Hilton Center, which to this day serves as a central cultural beacon on the University's Webster Groves campus. A photo taken during the construction of that building captured then-student Robb at the construction site and hangs in the University's Loretto Hall.
Robb graduated from Webster University in '65 with a bachelor's degree in social science and education. In May of 2019, she received an Honorary Doctorate of Laws Degree from Webster University on the anniversary of the 100th graduating class. In December 2019, Robb was recognized for her student leadership and nominated for the Webster University Student Life Hall of Fame. She was inducted in a ceremony held at Webster University on Feb. 7, 2020.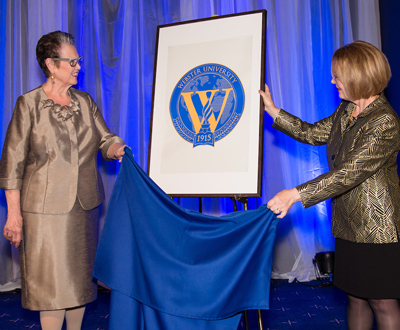 Robb's involvement and dedication to Webster endured through the years. She is a former Board of Trustee member, having served on the board from 2004 to 2013. She also served on the Executive Committee for the 2012-2013 academic year, having served on the Academic and Student Affairs Committee and on the Building and Infrastructure Committee.
In 2015, she served as chair of Webster's Centennial Committee, which planned the year-long celebration of the University's founding. The committee raised over a million dollars in donations to support the Next Century Leaders Scholarship Fund. She also helped create the Global Student Leadership Summit that continues to take place every other year and welcomes students from all of Webster's global campuses. Robb also chaired the centennial graduation committee that selected a new seal for the University (pictured above).
In 2015, a tree was planted in front of Webster Hall at Webster University in recognition of her work supporting the Centennial celebration. The Liriondendron Tulipifera (Tulip Tree") has been named the "Next Century Tree" in Robb's honor.
Below: Robb raised the Centennial Flag in front of Webster Hall with Chancellor Stroble and President Schuster.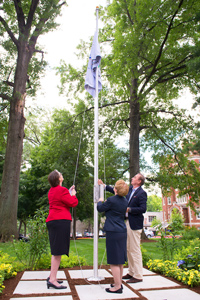 "Elizabeth was a staunch supporter of the University. She was always willing to help out in any way possible and was a constant activist for the University in the community" said Webster University President Julian Z. Schuster. "She also was a relentless advocate for our students and loved to engage with them whenever possible. She was a true believer in the power of education, not just as a tool to advance in your career but as a life-long pursuit that had transformative powers beyond economic measurements. She will truly be missed."
Robb's passion for civic engagement reached beyond Webster University. She served on the City of Clayton Board of Alderman for 16 years, and chaired every committee of the board during her tenure. She also served on the Board of Directors of the Clayton Child Center, and the Board of Directors of the Clayton Chamber of Commerce.
She was a Trustee of the Missouri Historical Society, served on the Museum's Executive Committee and served as chair of its Collection Committee. She also served on numerous other boards, including Cathedral Concerts, the Artist Presentation Society, the Bach Society of St. Louis, SSM Hospital in Richmond Heights, the Clayton Foundation and Citizens for Mass Transit. Additionally, she co-chaired Clayton's Centennial Celebration in 2013.
Robb founded Elizabeth Robb and Associates and Robb Partners Inc. in 1974, which she owned and managed for the next 45 years. She became a licensed real estate professional in 1975 and held a Broker-Associate license with the prestigious designation of Certified Residential Specialist and the PMN (Performance Management Networks) awarded by the Women's Council of REALTORS®. In 2015, she became a broker associate with Keller Williams Realty, Inc. She served on numerous REALTORS® committees during her career and helped develop a prototype "Leadership Development Curriculum" for the National Women's Council of REALTORS®. She was named the Clayton Businessperson of the Year in 2008.
A visitation for Robb will take place from 4 p.m. to 8 p.m. Wednesday, Sept. 2, at Lupton Chapel, 7233 Delmar Blvd, 63130. A memorial mass will take place at 11 a.m. Thursday, Sept. 3, at Our Lady of Lourdes Catholic Parish in University City, at 7148 Forsyth Boulevard, 63105. The family is collecting memories for an "In Memoriam" book to be on display at the visitation. Anyone with a memory of Robb can send them to WendyZRobb@gmail.com. Please include your name and connection to Robb. Materials must be submitted no later than 4 p.m. Tuesday, Sept. 1.