Emerson Library to Reopen Aug. 17 with Safety Changes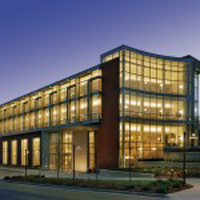 The Library is looking forward to reopening on Monday, Aug. 17 for Webster University and Eden Theological Seminary students, faculty, staff and alumni. Please see the Library website for scheduled hours.
Upon reopen, users will be able to browse and check out library materials, request and pick up items, and use computers and study spaces. In order to facilitate social distancing, furniture and computer seating have been rearranged, allowing more space.
Additional temporary changes have been made to help keep users safe.
Access and Health Screenings
ID card point of entry swipe is required for accessing the Library. (Stop by Public Safety at 572 Garden Avenue if you encounter problems using your card.)
Before coming to the Library, you must complete a health self-assessment at healthform.webster.edu, or stop by Public Safety for a health screening.
Users should enter the Library at the front door on the Edgar Road, and show the attendant either their access verification email received after completing the health self-assessment, or the certificate given to them by Public Safety. (Those with mobility issues will be able to swipe in at either the 1st floor Edgar Road entrance or the 2nd floor entrance near the Quad, and will be allowed elevator access to visit the 1st floor and show access verification credentials to the door attendant.)
Face mask or face covering are required to be worn at all times in the Library.
Rooms and Materials
The cyber café, which was formerly a 24-hour space, will now operate on the same hours as the Library.
The coffee counter in the café will be closed until further notice.
Study rooms will not be accessible.
Users are asked to clean their study areas and any shared equipment such as computers or printers, both before and after use. Cleaning supplies will be located throughout the Library.
Library materials will be quarantined for three days after arrival in the Library, potentially taking longer for requested items to become available.