Professor Geraghty-Rathert Earns Emerson Excellence in Teaching Award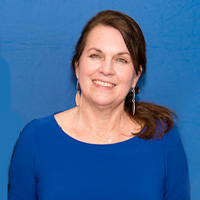 ST. LOUIS - Legal Studies Professor Anne Geraghty-Rathert was named one of the top professors in the St. Louis metropolitan area during this weekend's annual Emerson Excellence in Teaching Awards ceremony.
"This is a well-deserved honor for Professor Geraghty-Rathert," said Webster University College of Arts & Sciences Dean Anthony Wallner. "She is a talented professor and attorney who brings real-life experience into the classroom. Her commitment to students and her work with the WILLOW project to exonerate wrongfully convicted women are examples of her merit for the Emerson Award."
Earlier this year, Geraghty-Rathert received the Kemper Award for Excellence in Teaching. The Kemper Award is presented each year to two full-time and two part-time faculty members at Webster University who demonstrate teaching at its finest. Nominated and supported by students and colleagues, they are selected by a committee of their peers for their outstanding teaching. The award is funded by the William T. Kemper Foundation.
In 2016, Geraghty-Rathert and Webster University Chancellor Elizabeth (Beth) Stroble were among four women honored with Golden Lane Awards by the Metro St. Louis League of Women Voters as part of its "Celebrate the Vote" festival in downtown St. Louis.
Last year, Geraghty-Rathert made national news for her work with the Willow Project, which represents women who are post-appeal, incarcerated and believed to have been wrongly convicted of crimes.
Three Webster University School of Education alumni who work as K-12 teachers also were recognized as the top teachers at their institutions: Patricia Casseau, Emily Devine and Kim Fallert.
The Emerson Excellence in Teaching Awards program, sponsored by Emerson, annually recognizes more than 100 educators in the St. Louis metropolitan area – from kindergarten teachers to college professors – who are examples of excellence in their field. The program names one top instructor from each educational institution in the region. This is the only public recognition event of its kind to honor teachers in both Missouri and Illinois.
Each honoree receives an engraved Excellence in Teaching Award – a Tiffany crystal apple box – and a signed achievement certificate.
Emerson, with its world headquarters located in St. Louis, has sponsored this program since 1989 as part of its commitment to promote quality education throughout the St. Louis area. For more information on the award, visit https://www.emerson.com/en-us/about-us/corporate-social-responsibility/community-involvement/excellence-in-teaching.