Enchanted by Vienna and an American Education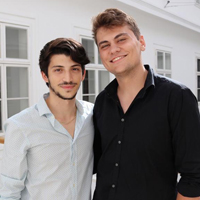 It is so hard to miss David Ilioski's smile, a 21-year-old Webster Vienna student from Skopje, with a passion for basketball and football. His best friend and Webster Vienna peer Alessandro Pittiglio, a Roman with a decade-long Viennese residency under his belt shares the same passion.

But, there is more to Ilioski and Pittiglio than first meets the eye: behind those smiles lies strong enthusiasm for their studies in International Relations.

Webster Vienna brought these two amazing students together. Now studying together in their final year, they admit to feeling a bit nostalgic as they recall the great times they have had at Webster and in Vienna.

"It's striking how both Vienna and our university have the same open-minded 'society,' due to the culturally diverse people and students who live and study in this city," says Ilioski.
"Although I moved to Vienna because my parents moved here, this city captured me with its uniqueness. It is so diverse, hence the perfect setting for international relations students such as myself," said Pittiglio.

For both, because of this diversity, Webster Vienna was the obvious and best possible choice. "Webster, all the faculty we have encountered, and most importantly, all the friends and connections we have made along the way have created an indescribable foundation for all of our future endeavors," said Ilioski.
"The opportunity to meet and establish new friendships that I will carry for the rest of my life while attending a university was always such an overwhelming idea to me, well until I started going to university," said Pittiglio. "With the help and smiles of the various professors and classmates, this experience became one that I will cherish greatly."

Their thirst for knowledge is not confined to their International Relations studies. Thanks to the Global Citizenship Program, all students must take, they had the opportunity to expand their experience in the fields of Psychology and Business. GCP program with its courses are designed both to help students learn content knowledge and also to help students develop the skills they need.

"Although I am currently studying International Relations with a minor in History, thanks to the GCP program. I was able to explore many other fields, ranging from Anthropology to Design Concepts," said Ilioski.

In response to global COVID-19 public health efforts, following local conditions and federal directives, Webster Vienna has moved to a virtual environment - enabling students to pursue their degree entirely online and to mix and match classroom and online courses.
"This proved to be a great challenge for all students and staff. Although online learning is quite new to me, it has proven to be an exciting experience. It is unfortunate that classes on-campus had to be canceled as that is one of the biggest aspects that makes Webster Vienna so great, as the lessons are enjoyable and enlightening," said Pittiglio. "Distance learning has been another opportunity to learn to adapt and experience how a work from a home job would look like," Ilioski added. "While it is unfortunate that my classmates and I will not have our graduation ceremony this year, I am sure everyone will make the most of it. As for me, I will celebrate through one big and festive video call with all my family and friends."
Pittiglio and Ilioski will take many memories from Webster Vienna, amongst them attending the Warwick Economics Summit, learning economic insights, and theories specific to that event. "The Global Student Leadership Summit in the St. Louis campus was also a great networking opportunity, but also a place to discover insights, as a leader", said Ilioski.