Changes to St. Louis Extended Education Leadership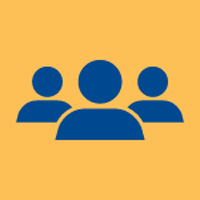 The St. Louis Extended Education locations announce several changes in personnel.
Among them, Webster welcomes three new assistant directors: Maggie Hooks (Gateway), Raymond Robinson (Westport) and Brenda Russell (Winghaven.) All will begin their official roles on Monday, May 16.
Hooks currently serves as the interim assistant director of the Gateway campus. "She has done a phenomenal job in her current role as the academic advisor/recruiter for St. Louis Extended Education, and her follow-through and high level of customer service and focus on student success are impeccable," said Thao Dang-Williams, dean of Extended Education

Robinson has been with Webster for just over two years as a graduate admissions counselor. "Ray's calm disposition, gentle personality, attention to students' needs and great presentation skills make him a good addition to the St. Louis Extended Education team," said Dang-Williams.

Russell brings over 20 years of higher education administration experience to Webster. "I have no doubt that we will benefit from Brenda's valuable experiences as we move towards growing the St. Louis Extended Education unit, and specifically, Winghaven," said Dang-Williams. "Brenda will surely win everyone over with her intelligence, kindness and soft-spoken style."
Retiree Farewell Reception May 13: Aleshunas, Froeckmann, Ingles
Additionally, the Extended Education unit will celebrate three retirees on Friday, May 13, at 2:30 p.m in the East Academic Building, room 240: assistant directors Pat Froeckmann (Westport) and Debra Ingles (Winghaven), and Pam Aleshunas (Westport.)
Aleshunas' last day at Webster was April 22. She served as Westport department representative since July 2008 and an integral part of the Westport campus, where faculty, staff and students appreciate her calm disposition and drive to help students succeed.
Froeckmann has been with Webster University for 25 years, positively impacting students, faculty and staff during her tenure. "Pat has been an integral part of the Webster culture as an academic advisor, an assistant director, a colleague and a friend," said Dang-Williams. "Pat's contributions are immeasurable to not just the Westport campus but to Webster University over all."

Ingles has been with Webster University since 2004, working at both military and metro locations. "Debra's charismatic style has left an indellible mark at the Winghaven campus," said Dang-Williams. "She often went out of her way to participate in Webster University initiatives on the main campus, ensuring that there some participation from the extended campuses."