Spring Break Study Abroad Trips to Greece, Costa Rica, Cuba, and Ecuador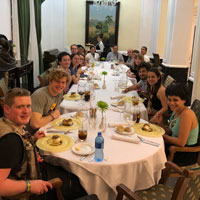 During Webster University's 2018 spring break, 33 students participated in various short-term faculty-led study abroad trips to Athens, Greece; San Jose, Costa Rica; Havana, Cuba; Quito and Galapagos Islands, Ecuador.
The seven students who participated in the trip to Cuba led by professor Kathy Corley, School of Communications, worked collaboratively with local Cuban students from Instituto Superior de Arte on film production projects that highlight the historical, cultural and social context of Cuba.
The group learned from scholars and practitioners of Cuban literature, architecture, cuisine, dance, Afro-Cubanism, and film, immersing themselves in related activities and documenting their experiences along the way.
In the George Herbert Walker School of Business & Technology, for the 11 students and professor Debbie Psihountas who travelled to Athens and the six students and professor Arnoldo Rodriguez who traveled to Costa Rica, the core focus of their programs was to gain an understanding of how business is conducted in other regions of the world. Each group had a week full of visits to local businesses and multi-national corporations in their respective locations.
In-Depth: Learn more about what students experienced in Athens, visiting the "cradle of western civilization" and meeting in person for the first time since beginning the online course in January.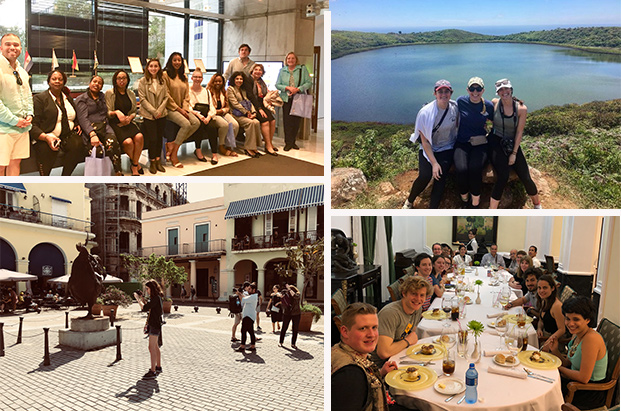 While in the Galapagos Islands, nine biology students and College of Arts & Sciences professor Stephanie Schroeder explored the islands through the lens of speciation and biodiversity, as a component of their Evolution Lab course. There they explored various ecosystems and collected observational data to be used in their final course projects.
It's Your World. Explore!
These programs are designed to enrich the curriculum by giving students a learning experience outside the classroom, and allow them to better understand the world around them. The short-term faculty-led programs are another avenue for students to attain an experience in Webster's award-winning study abroad program.
Get a taste of study abroad through students' eyes via the Webster U. Study Abroad Instagram @websteru_studyabroad.
The deadline for applications for fall 2018 study abroad programs is March 30. Students can learn about offerings and study abroad scholarships, and receive help completing an application and passport photo during the March 21 Study Abroad Fair.