Brandt Chosen for National Center of Choreography's Dance Writing Lab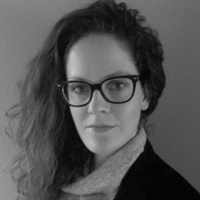 Betsy Brandt, a Webster University Department of Dance adjunct faculty member, is one of five artists selected by the National Center of Choreography (NCC) to join its inaugural Dance Writing Lab, a prestigious kind of think tank exploring dance writing and its capacity to increase contextual support for the art form.
Only four other writers, including high profile critics and institutional curators, were selected as part of a nationwide search from an exceptionally competitive pool of applicants. The National Center of Choreography supports the research and development of new work in dance by offering residencies as well as aggregating resources designed to catalyze dialogue and experimentation in the field. "It isn't every day—or year, or even decade—that a dedicated choreography incubator opens its doors," said Dance Magazine, naming NCC Akron director Christy Bolingbrook one of "The Most Influential People in Dance Today."
"Betsy is on the forefront of the national dialogue on dance writing and thinking," said James Robey, chair of the Department of Dance in Webster's Leigh Gerdine College of Fine Arts. "It is exciting for our students that she brings an extension of that dialogue onto our campus."
In addition to teaching history and theory courses within the Department of Dance, Brandt is also a practicing dramaturg for contemporary dance and dance-film projects across the country, working with an impressive list of choreographers including Jennifer Monson, Sara Hook, Paul Matteson, Kate Corby, and Elizabeth Johnson. Her unique perspective, firmly rooted in a practice where she is simultaneously both artist and scholar, brings a distinctive voice to the Dance Writing Lab.She is also a longtime collaborator with O'Connor and brings a familiarity with his work to the group as it analyzes the role of writing in his own choreographic practice.