Volunteers Sought for Faculty Mentoring Pilot; March 27 Workshop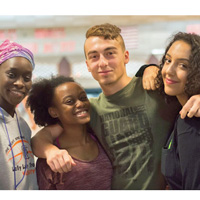 Volunteers are currently being recruited for a faculty mentoring pilot program for Transitions students, which has been developed through Professor Don Conway-Long's 2016-2017 Provost's Faculty Fellowship with the Academic Resource Center and the Faculty Development Center.
The pilot program participants will be full-time faculty members who will work with a representative sample of Transitions students during the 2017-2018 academic year with the goal of increasing retention, improving performance, and assisting the Transitions students in achieving a successful first year.
The pilot program includes a preliminary meeting between the faculty mentors and their assigned students in the summer of 2017, a meeting or two in Fall 2017, and a series of meetings in Spring 2018. The program's effectiveness will be assessed at the end of the academic year, and if it proves successful, the program will expand to include more students and faculty mentors.
Statused and status-track faculty members are invited to learn more about this pilot program at a workshop from 3-4 p.m. on Monday, March 27, in the Library Conference Room.