Save the Date: Faculty networking event, resource fair Aug. 31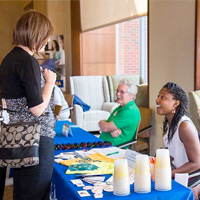 All faculty are invited to attend our third annual Faculty Networking Event and Resource Fair on Friday, August 31, where Webster professional staff can learn of Webster's many resources available and to socialize. The event will be held from 3:30-5:30 p.m. in the East Academic Building, Edward Jones Commons.
The purpose of this event is for faculty, through relationship building and partnerships, to understand the services and resources available to them and students during the academic year.
This is an excellent opportunity for faculty to familiarize themselves with campus opportunities, learn about new and exciting faculty developments within offices, and meet colleagues from Academic and Student Affairs who will serve as resources as they pursue professional opportunities here at Webster.

We aim for this event to create meaningful connections between academic partners and faculty in order to support engaged student learning, and to share practices, services, and resources so that we are better equipped to reach all of our students. All faculty, both full-time and part-time, are invited to join us for an afternoon of conversation and learning while enjoying refreshments and camaraderie. As Webster University prides itself on development through relationship building and rapport, this is an excellent opportunity to build a relevant network of success for you, faculty, and the amazing students we serve!
If you are interested in representing your respective department/area at a table during the event, please let us know through this RSVP.
For more information, please contact Chris Robinson, Tutoring program coordinator, at cdrobinson41@webster.edu.