2nd Annual Faculty Research Symposium: Call for proposals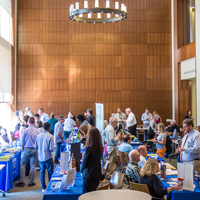 The Office of the Provost, Office of Research & Sponsored Programs, University Library, and Faculty Development Center are working together to draw attention to the exciting research being conducted by our faculty.
They will host the 2nd Annual Faculty Research Symposium on Thursday, Feb. 15, 2018, during the annual Teaching Festival that will take place Feb. 12-16.
You are welcome to discuss a solo or collaborative research project, performance, art piece, or anything else you are working on. The organizers are looking for a 45-minute talk in person or via WebEx, but are open to another format if it fits your research.
If you are interested in participating, please fill out this form. Prospective presenters will be contacted in early January to finalize details.
For questions, please contact Emily Scharf, Library, at emilyscharf99@webster.edu or 314-246-7818.