Webster Welcomes New WINS Partner Marist College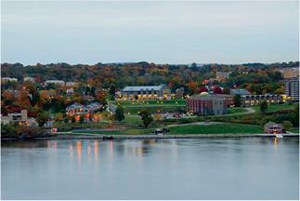 The Webster International Network of Schools (WINS) program welcomes Marist College as the newest institutional partner. Founded in 1929, Marist overlooks the Hudson River in Poughkeepsie, New York, and is located between New York City and the state capital of Albany.
Marist College is a highly selective comprehensive liberal arts institution, recognized for excellence in U.S. News and World Report and the Princeton Review, and is noted for its leadership in the use of technology in and out of the classroom. Nearly half of the college's student body study abroad during their academic career, and many do so more than once.
Each of Webster's international campuses is now an approved students enrolled in one of the 47 Bachelor's programs and 14 Master's programs offered. Currently there is a Marist student studying abroad at Webster Athens.
About WINS
The WINS program, established more than 15 years ago, creates partnerships between Webster University and U.S. universities to provide access to Webster's international campuses on four continents. The program allows full-time, degree-seeking students of affiliated U.S. universities to study abroad at one of Webster's international campus locations and allows for collaborative program development amongst partner institutions. For more information visit www.webster.edu/WINS or contact WINS director, Kim McGrath.