Ferguson Crisis in the Classroom: An Applied Educational Psychology Perspective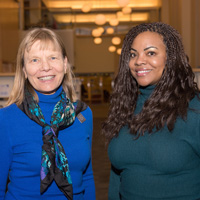 Media outlets from around the world descended on Ferguson in 2014 covering the aftermath of the Michael Brown shooting and putting St. Louis in a global spotlight. News stories focused on the facts and rumors of the case, the effect on businesses, racial history of the area, civil rights and the response of law enforcement. Students and faculty members in Webster University's School of Education saw one group that was not getting the media's focus – children and youth in schools.

"After Aug. 9 we started thinking about what could we do and how can we help the kids in schools because nobody was talking about how children and teens might be affected," said Deborah Stiles, professor of Applied Educational Psychology and School Psychology at Webster University. "The overwhelming majority of students in the Applied Educational Psychology programs are working in area schools – they're on the front lines. We knew we had to take our knowledge of psychology and bring that understanding to children and youth in schools."

The School of Education quickly created a class called "The Impact of Community Violence and Racial Strife on Children and Youth in St. Louis Schools." Students of that class along with additional students from an Applied Research class and other Applied Educational Psychology programs worked together for more than five months discussing, studying, and writing about schools' responses to the Michael Brown shooting and the resulting crisis in St. Louis. The investigation included analyzing data from 54 schools, reviewing Ferguson lesson plans and curricula, studying media coverage, and interviewing two inspirational school administrators in the aftermath of the Michael Brown shooting.

Deborah Stiles, along with Jameca Falconer, an adjunct instructor at Webster University, and students in the class presented the findings of the research at the 32 nd Annual Winter Roundtable at Teachers College in Columbia University. The Winter Roundtable is the longest running continuing professional education program in the United States devoted solely to cultural issues in psychology and education.

"We found that most schools had a minimal response to the Ferguson crisis," said Stiles. "Some schools had a moment of silence 'for peace'; some told staff that they should change the subject if Ferguson were to come up in the classroom."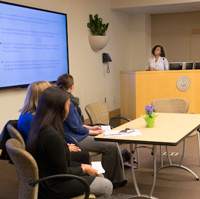 The faculty and student researchers categorized schools according to grade level, distance from Ferguson, percentage of African-American students, extent of the school's response and the psychological and educational benefits of the school's response. Schools were rated from least to most extensive in their response and least to most beneficial in their response.
Sonja Brewer, an area educator and student in the Applied Educational Psychology: School Psychology program describes how the complexity of the Ferguson crisis created challenges for area school leaders.

"Broaching these subjects seemed to invite trouble if brought up in a school environment," said Brewer. "Students were coming in with pre-conceived notions, rumors and fears regarding the Michael Brown shooting and there was also no guarantee that teachers would be totally objective and divested of their own emotions and opinions. Therefore, it became the easier route to have one minute of silence."
54 Schools Studied
Of the 54 area schools studied, only seven schools provided a response with positive and meaningful psychoeducational benefits for students. Secondary schools with a positive response encouraged discussion groups on race relations, created Teen Summits or used support materials provided by the Morningside Center in New York. Discussion questions in the lesson plans focused on getting the students to listen to each other, share their frustrations about the crisis in a healthy way and learn about history, civil rights and conflict resolution. In regards to the Michael Brown shooting, students were taught to critically analyze evidence and to draw their own conclusions.

Early childhood and elementary educators faced challenges in figuring out a healthy way to raise the subject that was appropriate for the age and emotional development of students.
"Our research showed it is possible to discuss these complicated topics within the early elementary grades," said Stiles. "If the discussion is guided by adults who are aware of the cognitive and social-emotional needs of young children, they can be addressed without upsetting or frightening children."

One successful program in this elementary age group encouraged students to send "Welcome Back" cards to Ferguson students once they returned to school and then discussed segregation and prejudice in social studies curriculum.

According to Stiles, "One area school district 'got it right' in their approach - the responses of that school district were developmentally appropriate. The Early Childhood Center participated in an area-wide effort known as Hearts for Ferguson wherein all 11,000 students in the Ferguson-Florissant School District were intended to receive a heart to symbolize community support. At the middle school level, select students took part in all-day experiential discussions on diversity and equality and the high school students met weekly to discuss topics related to race."

In an interview, that district's superintendent explained that they were not afraid to face this crisis and wanted to make sure their community had an understanding of what was going on. According to the superintendent, "This work about social justice and equity is what we value and the central part of what we do. So, we're not afraid of this; we're not afraid of laying into this crisis and helping everyone understand it. We believe that the [Ferguson crisis] is a learning opportunity for our kids."
A Learning Opportunity
The Ferguson crisis was also a learning opportunity for the Applied Educational Psychology and School Psychology students at Webster University. For student Sonja Brewer the crisis showed the importance school psychology as it is currently practiced.

"School psychologists are no longer defined as test-toting employees," said Brewer. "Their role has evolved and expanded with a paradigm shift toward treating the 'whole' child. More than ever before, there is a great need for school psychologists in schools and clinical settings. Equipping graduate students in Applied Educational Psychology: School Psychology is to help, on a greater scale, those communities such as Ferguson, which have some traumatized and educationally disenfranchised students so they can be helped at earlier stages in life with evidence-based practices and interventions made on their behalf."

Stiles hopes the research helps school districts recognize the importance of "courageous conversations" about race, developmentally appropriate education, and the value of school psychology and school psychologists. The symposium and roundtable discussion at Columbia University helped promote the findings of the research study to educators across the United States. The Applied Educational Psychology programs just submitted an article titled, "Practicing Psychology in Challenging Times: Schools and the Ferguson Crisis" for publication in an international journal in child psychology. Additionally, Missouri Families 4 Families has nominated the Applied Educational Psychology students, Stiles, and Falconer for a Shining Light Award for their research.

For more information on the Applied Educational Psychology program and the work that they are doing, please click here .