Fletcher Ferguson Named Director of Student Conduct and Community Standards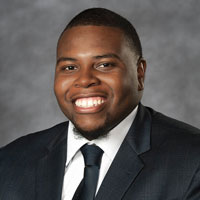 Student Affairs is excited to welcome Fletcher Ferguson as the Director of Student Conduct and Community Standards. Ferguson has extensive experience working with students' conduct and has years of professional service across multiple higher education institutions.
Ferguson earned a B.A. in Psychology from Rhodes College, Tennesee, and an M.S. in Leadership and Policy Studies with a concentration in Student Personnel from the University of Memphis. His most recent position was at Virginia Commonwealth University, where he served as Assistant Director of Residential Life.
"We are very excited to have Fletcher join Webster," said John Buck, interim associate vice president for Student Affairs and Dean of Students. "He brings a wealth of experience to this role that will benefit the entire worldwide network of Webster. His approach to student learning and development is in line with the University's mission of creating learning experiences that transform students for global citizenship and individual excellence."
Ferguson will be located at the Webster Groves campus, and his first-day in-office will be Tuesday, Jan. 21, 2020.