Financial Wellness: Measure Progress and Take Action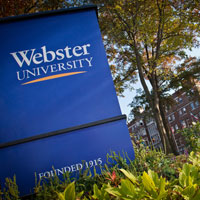 As a student or member of the staff or faculty at Webster University, you have access to Prudential's personal financial wellness assessment that lets you see where you stand on your financial journey.
It takes just a few minutes to complete online and at the end, you'll be served up tools, tips and action steps to help you better manage your money in the areas that matter most to you.
This financial wellness tool is a benefit at no additional cost to Webster or to you.
Additional Prudential resources
Webster uses Prudential for life and disability coverage, and that means there are plenty of resources to be used by the Webster community. Prudential's site provides free resources available to all faculty, staff and students and your families.
The website combines digital learning and interactive tools with personalized content that move along at your pace, as well as a library of topic-specific videos, educational articles and the opportunity to attend monthly webinars on relevant financial topics.
You are encouraged to explore what the site has to offer and register if you want to retain your personal custom content. Registration does not require you to share any sensitive information. Webster will not receive any individual information from the site on your specific participation.
Click here to read more about this free service offered to our Webster community by Prudential. These financial wellness tools are a benefit at no additional cost to Webster or to you.