Fiordimondo Selected to Represent Webster Students on Keep Me In College Coalition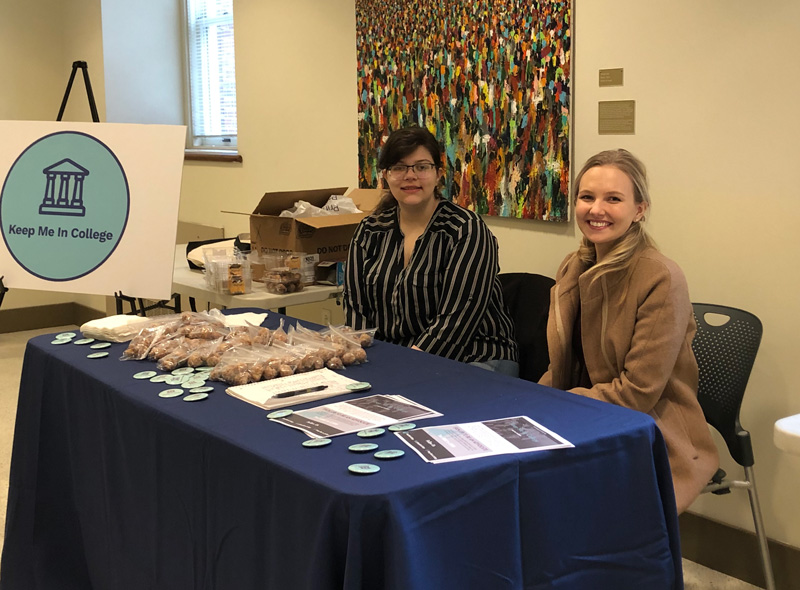 Mia Fiordimondo (left) is joined by Keep Me In College's Statewide Director Olivia Wilson (right) at the annual Donuts in December informational event on Dec. 12.
Mia Fiordimondo has been selected to represent Webster students on the statewide Keep Me In College student coalition. The Keep Me In College (KMIC) coalition is a Missouri nonprofit organization working to keep members of the Missouri legislature informed of the importance and the real-life impact of student aid programs including Bright Flight, Access Missouri and Pell grants. Each year, students are selected from Missouri's independent, nonprofit colleges to help amplify the voices of their peers before members of the Missouri legislature.
Fiordimondo is a junior from St. Louis majoring in political science. She also serves as president of the History, Politics and International Relations Club. As Webster's KMIC Ambassador, Fiordimondo will participate in monthly issue briefings and communicate about those issues with Webster student groups and on social media.
As part of the KMIC coalition, Fiordimondo will help identify students with an interest in submitting video or in-person testimonials about the impact of student aid on their ability to attend Webster and get a college education. The result of her work with KMIC will be to facilitate and strengthen the voices of Webster students on the critical issue of preserving student aid.
Keep Me In College is affiliated with the Independent Colleges and Universities of Missouri, a statewide membership organization representing Missouri's nonprofit, independent higher education institutions. To learn more about KMIC, visit their website or find them on Facebook.