Webster Athletics Names Five New Hall of Fame Inductees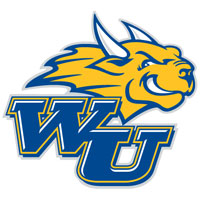 Webster University Athletics will place five new inductees into the Webster Athletics Hall of Fame during its annual banquet.
Unveiled on Monday, the 10th Hall of Fame class includes former student-athletes Candace Barry, Tara Fortschneider, Melanie Klingelhoefer Bernat and Ryan Turk, as well as longtime former Webster athletic director Tom Hart (1991-13).
These five Hall of Famers were selected by a committee made up of faculty, coaches, and staff. This year's class will bring the total Hall of Fame membership to 44.
The 2019 Webster Athletics Hall of Fame Banquet is scheduled for Saturday, Feb. 9 in the Sunnen Lounge at Webster's University Center. The Hall of Fame Class of 2019 will be recognized during halftime of that afternoon's men's basketball game with Blackburn College, prior to their formal recognition that same evening.
A summary for each inductee appears below, with more on each of their Webster careers in this Athletics release.
Candace Barry
Barry was a two-time First-Team All-St. Louis Intercollegiate Athletic Conference selection in cross country and was the second ever runner in school history to earn multiple First-Team All-SLIAC honors. In 2006, Barry placed fifth at the SLIAC Championships and finished seventh at the 2007 SLIAC Championships.
Barry is the second Gorlok women's cross country runner to be inducted into the Hall of Fame. Barry graduated from Webster in 2010 with a degree in Biology. From there, Barry earned her BSN and MSN from Goldfarb School of Nursing and is currently a school nurse in the St. Louis Public School system.
Tara Fortschneider
Fortschneider was a four-sport athlete at Webster as she lettered in basketball and cross country for four years, soccer for three, and tennis for two years. Fortschneider was a two-time All-SLIAC selection in basketball and was a starter on Webster's 2001-02 team that won the SLIAC championship and advanced to the NCAA Division III Sweet 16. Fortschneider was a member of three consecutive regular season SLIAC title teams in soccer and was a member of three NCAA Tournament teams.
Fortschneider, who graduated from Webster in 2004, is the seventh Gorlok women's basketball player, eighth Gorlok women's soccer player, third Gorloks women's cross country runner and first Gorlok women's tennis player to be inducted into the Hall of Fame.
Melanie Klingelhoefer Bernat
Klingelhoefer Bernat, a four-year letterwinner as a setter in volleyball, was also a three-time All-SLIAC selection and was named to the SLIAC All-Tournament Team in 2006. She helped lead Webster to three consecutive 20-plus win campaigns and was a key member of the school's 2005 regular season SLIAC Championship team and the school's 2006 SLIAC Tournament championship team that advanced to the NCAA Tournament.
Klingelhoefer Bernat is the fifth Gorlok women's volleyball player to be inducted into the Hall of Fame. She earned her Bachelors of Business Administration degree from Webster in 2007 and her Master of Arts in Management and Leadership from Webster in 2008. She is currently the Supervisor of Quality Improvement Audits in the Internal Audit Department at Centene Corporation.
Ryan Turk
Turk was a four-year letterman for the Gorloks men's basketball program and earned First-Team All-SLIAC honors in both 2008 and 2009. Turk ranks in the Top 10 in numerous career statistical categories. He was an integral part of Webster's 2007-08 SLIAC Championship squad, the first-ever team to post a 16-0 record in league play, where he led the team in both scoring and assists.
After graduating from Webster in 2009 with a Bachelor of Arts degree in political science, Turk served as an assistant coach for Chris Bunch in 2009-10, before returning to his home state of Colorado to begin a teaching and high school coaching career. Currently, Turk is an English teacher and assistant varsity and head junior varsity basketball coach at Grandview High School in Aurora, CO. He will become the ninth men's basketball player to be inducted into the Hall of Fame.
Tom Hart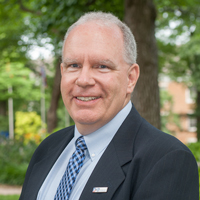 Tom Hart served as Webster's Director of Athletics for 19 years before stepping down from that position in 2013. During his 19 years as the school's athletic director, Hart played a significant role in helping to grow and foster the success of the Gorloks Athletic program.
Webster Athletics did not have a lot of success in it's first decade, but all that changed under Hart, who was named the school's head men's basketball coach and coordinator of athletics and recreation in 1992.
Among some of Hart's accomplishments at Webster include:
53 SLIAC Conference Championships
43 NCAA Tournament Appearances
Nine consecutive SLIAC All-Sports Awards
Helped foster improvements in GPA, retention and graduation rates of Webster's student-athletes
Served as Chair of the Division III Men's Basketball National Committee
Earned SLIAC Coach of the Year honors in both men's basketball and men's golf.
Hart, who earned his Doctorate in Management from Webster in 2013, is currently serving as the Commissioner of the USA South Athletic Conference, which is an NCAA Division III conference that features 18 institutions and spans from Virginia to Alabama. Hart is the fourth administrator to be inducted into the Hall of Fame.
Webster Athletics Hall of Fame
The Webster University Athletic Hall of Fame was established in 2010 to honor those who reflect the Department's mission of success in the classroom, the community, and the arena of competition. Former players, coaches, and other individuals who have made significant contributions to the program, are eligible for selection.
More information on the achievements of these five individuals can be found at Webster Athletics.