Webster Vienna Alumni Profile: A Challenge Gladly Accepted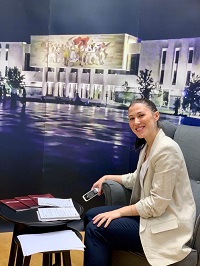 It seems like just yesterday that Fiona Isufi, sitting with her parents and younger sister in their home in downtown Tirana, Albania, opened a newly arrived e-mail from the Webster Vienna Admissions Office and read the first line: Congratulations, you have been accepted!
Time flies and in Isufi's case, she is now working at the Permanent Mission of Albania to the International Organizations in Vienna as a First Secretary to the 2020 Albanian OSCE Chairmanship.
A hard-working, kind, tolerant, friendly, and reliant woman – as her sister describes her – Isufi admits that "deciding to go to Webster Vienna Private University turned out to be the greatest challenge of my life."
"As a person, I like to challenge myself. I always thought that challenges help you better understand who you are and how to fit in throughout various aspects of life," she said. Hence, her certainty that pursuing an education at Webster Vienna Private University would result in a superior level of knowledge attained.
"My years at Webster Vienna would be described in one simple word: Amazing. I was able to indulge in an international university with people from many cultures," Isufi said. She was especially satisfied with the academic staff; with their professionalism, and their striving to help students maintain academic and social integrity.
Her hard-working days at Webster Vienna paid off by helping her pursue the career she has today. Majoring in International Relations and studying diplomacy was an asset to her when applying for an internship at the Albanian Mission, where she worked for one year before being offered the job as First Secretary.
"I am pleased about this opportunity I have been given; however, it remains a daily challenge for me, as it was with Webster Vienna," she said.
Life is a path made of choices, and Webster Vienna was a great choice for Isufi. "I am sure that the quality of this university will always be demonstrated through my hard work and in my best aspects – wherever life takes me," she concluded.
To find out more about Webster Vienna Private University, contact our Admissions.