Flu Shots on Campus Wednesday, Sept. 11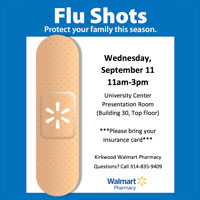 An annual flu shot is recommended to protect you and those you are around from influenza. A flu shot is needed every season for two reasons.
First, the body's immune response from vaccination declines over time, so an annual vaccine is needed for optimal protection.
Second, because flu viruses are constantly changing, the formulation of the flu shot is reviewed each year and updated as needed to keep up with changing flu viruses.
Walmart Pharmacy will offer Flu Shots to faculty, staff and students on Wednesday, Sept 11, from 11 a.m. -3 p.m at the University Center, Presentation Room on the main campus. Please bring your insurance card.
If students, faculty, and staff have questions about the shot, call the Kirkwood Walmart Pharmacy at 314-835-9409.