Forensics and Debate Team Win Three State Championships, Jensen Named MAFA Coach of the Year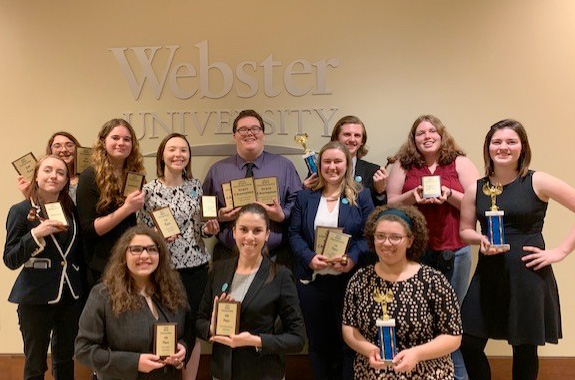 The Webster University Forensics and Debate team competed in the Missouri State tournament hosted on the Webster's campus by the Missouri Association of Forensics Activities (MAFA) and brought home three state championships this weekend.
Sophomore John Wallis and freshman Sarah Hill took first place in public forum debate, making them state debate champions. Wallis also brought home a state championship in Extemporaneous Speaking and Impromptu speaking.
The Forensics team earned a total of 19 awards from the state tournament including head coach Gina Jensen being awarded the MAFA Coach of the Year Award.
The Speech and Debate team has brought home state champions for five consecutive years. The Forensics team has also won 121 awards so far for the year as they turn their attention to the Pi Kappa Delta Biennial Tournament and Convention hosted by Hofstra College March 19-25. The team has worked all year to be ready for the State and National competitions and expects to bring home numerous awards. Webster has 29 National Championships and 10 All Americans since the team joined Pi Kappa Delta in 1997.
Other awards won at the state tournament include:
Freshman Laurel Kratz won the top novice award in Informative speaking and extemporaneous speaking
Junior Josh Campbell was awarded was awarded top novice award in impromptu speaking
John Wallis took home a 2nd place speaker award in public forum debate
Sophomore Lily Wallis and Freshman Juliana Ness took 3rd place in parliamentary debate
Josh Campbell won a 3rd place speaker award in parliamentary debate
Laurel Kratz took home 4th place in both extemporaneous speaking and informative speaking
Juliana Ness won a 6th place speaker award in parliamentary debate
Seniors Olivia Potter and Jenny Stickney both won MAFA Senior Awards
Impressively, Wallis has won back-to-back debate championships this spring. Wallis and sophomore Zoe Rollins along with senior Olivia Potter and junior Daniela Piazzi closed out finals at the Boarder Wars tournament hosted by Kansas Wesleyan on Feb. 1-3, tying for 1st place. John Wallis and Laurel Kratz have both qualified for the elite American Forensics Association's National Individual Events Tournament hosted by The University of Alabama, April 4-7.