Webster Forensic and Debate Students Shine at Pi Kappa Delta National Tournament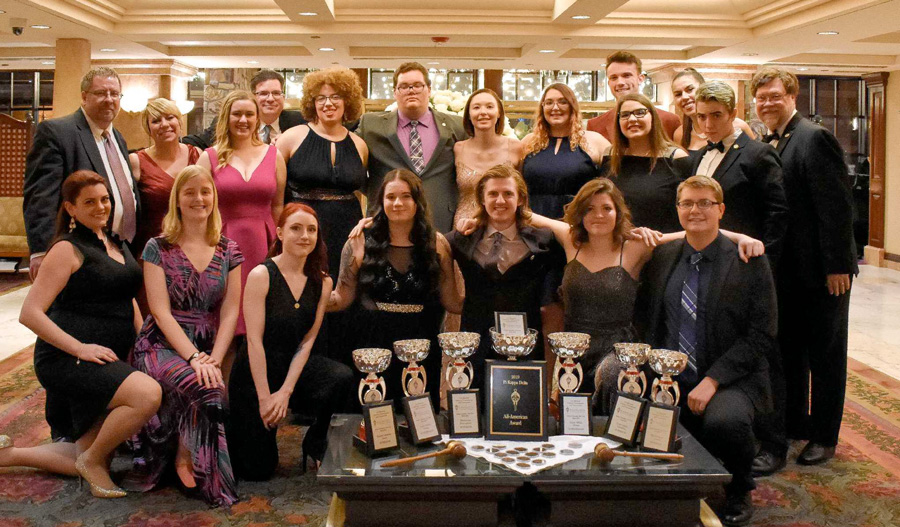 The Webster Forensic and Debate program brought home a fifth place overall team sweepstakes award from the 2019 Pi Kappa Delta National Tournament and Convention, held March 20-24 at Hofstra University in New York. Pi Kappa Delta is the largest and oldest collegiate forensic honor society in the United States. Their national tournament is annually the largest or second largest tournament held in the country.
Webster's fifth place team sweepstakes award is the highlight of 34 honors earned at the tournament that included 71 schools from 27 states. Among the individual honors earned are two national championships won by Olivia Potter (Interviewing) and Daniela Piazza (Spanish Oral Interpretation), Laurel Kratz' third place finish (Informative Speaking), and Potter being one of ten individuals named as 2019 All-Americans.
The breadth and depth of success of Webster students not only earned the team their fifth place finish, but also team sweepstakes awards in debate and individual events. This marks the second-best team national tournament finish in the team's history.
"This success is a result of a team that worked harder and bonded together in ways that are hard to put into words," said the team's director, Gina Jensen. "We are graduating only one student from our competitive team. That we were able to excel to this degree with a team of nearly all first or second year forensics students is amazing. Another important perspective to this tournament is that collegiate forensics is an open field. Schools of all sizes compete together. It's a validation of our students' abilities and drive to succeed that we excelled at the level we did."
Webster's History with Pi Kappa Delta
Webster's presence was felt in other aspects of the tournament and convention. John Wallis was elected as the at-large student member to the Pi Kappa Delta National Council. He follows Potter, who completed a term in the same position.
Scott Jensen, professor of Sports Communication and Speech Communication Studies, edited the daily tournament newsletter in his role as a member of the National Council. Gina Jensen, director of Forensics, and Tom Serfass, assistant coach, each served on the tournament committee. Webster alumnus Ryan Louis '03, associate professor at Ottawa University, was elected president-elect of Pi Kappa Delta becoming the third person from Webster University to serve as Pi Kappa Delta president, following Scott and Gina Jensen.
Webster Forensic and Debate Team Awards
5th Place - Overall Team Sweepstakes
Excellent - Team Debate Sweepstakes
Excellent - Team Individual Events Sweepstakes
All-American - Olivia Potter
National Champion - Olivia Potter, Interviewing
National Champion - Daniela Piazzi, Spanish Oral Interpretation
3rd Place - Laurel Kratz, Informative Speaking
3rd Place - Sarah Hill, Spanish Oral Interpretation
4th Place - John Wallis and Zoe Rollins, Advocacy in Action
Quarterfinalists - Juliana Ness and Sarah Hill, Junior Parliamentary Debate
7th Place - Zoe Rollins, Student Congress
10th Place - John Wallis, Broadcast Journalism
15th Place - Laurel Kratz, Impromptu Speaking
Excellent Award - Laurel Kratz, Extemp Speaking
Excellent Award - John Wallis, Extemp Speaking
Excellent Award - Regina Marley, Discussion
Excellent Award - John Wallis, Student Congress
Excellent Award - Laurel Kratz, Student Congress
Excellent Award - Daniela Piazzi, Novice Public Debate
Excellent Award - Lily Reed, Junior Public Debate
Excellent Award - Zoe Rollins, Impromptu Speaking
Excellent Award - John Wallis, Impromptu Speaking
Excellent Award - Sarah Hill, Impromptu Speaking
Excellent Award - Daniela Piazzi, Interviewing
Excellent Award - Sarah Hill, Interviewing
Excellent Award - Josh Campbell, Interviewing
Excellent Award - Lily Reed, Interviewing
Excellent Award - Olivia Potter, Persuasive Speaking
Excellent Award - Laurel Kratz, Persuasive Speaking
Excellent Award - Daniela Piazzi, Persuasive Speaking
Presiding Officer - John Wallis, Student Congress
Presiding Officer - Laurel Kratz, Student Congress
Showcase Performer - Daniela Piazzi, Spanish Oral Interpretation