Webster Forensics and Debate Team Hosts, Wins Big at Study Break Tournament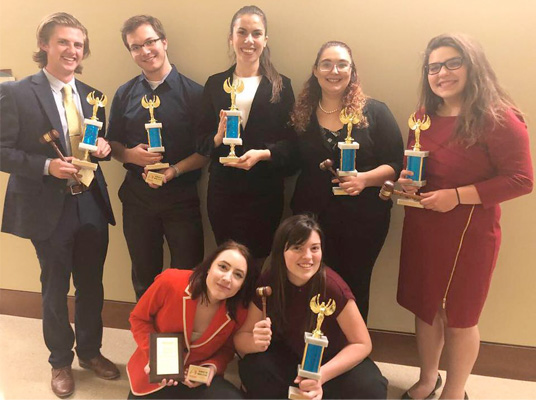 In an effort to both provide an experiential learning experience and service to the collegiate debate community, the Webster University Forensic and Debate Team partnered with the class POLT 1550 Introduction to Political Argumentation and Debate for the annual Study Break Debate Tournament this past Saturday, Dec. 1.
Each year these two groups welcome debate classes and competitive forensic programs to be part of a tournament that focuses on students new to debate. The tournament includes two divisions, as well as opportunities for advanced undergraduate debaters to serve as critics.
This year's tournament included six schools from five states and 30 teams across the novice and junior divisions.
Webster University students excelled at the tournament, winning each of the four team and individual categories, as well as the team sweepstakes championship. Novice team champions were John Hund and Josh Campbell, while Laurel Kratz and Shiloh Johnston won the junior division. Top speakers in each of those divisions were also Webster students—Campbell in novice and Kratz in junior.
Several other Webster students placed in the top 10 of their divisions. Top novice speakers included Miles Umbaugh (3rd) and Saneel Sharma (9th). Top junior speakers included Amethyst Lehman (2nd), Shiloh Johnston (4th), and Julianna Ness (10th). Other speakers earned excellence awards for where they placed in the speaker competition, including Blaine McVey, Drew Gehner, Hund, Zach Ridings, and Lily Reed.
Teams earning excellence recognition include Umbaugh and Sharma, Ridings and Gehner, and Vincent Fedorko and Parker Schaeffer. Additionally, Webster earned the top three placings in the junior division. Second place finishers were Daniella Piazzi and Lehman, while Ness and Reed placed third.
"This tournament has been around for 30 years and has built a reputation of being a valuable opportunity for students to experience competitive argumentation in a setting that focuses on teaching and nurturing directed toward inexperienced debaters," explained Scott Jensen, professor and the instructor for POLT 1550. He added that the tournament started at University of Missouri-St. Louis when he was the assistant director of Forensics there. When the UM-St. Louis program folded, Jensen brought the tournament to Webster. "It is a perfect fit for Webster's program because we maintain a deliberate focus on growing students from whatever skill level they have when they come to us. Often that means we are grooming novices with inexperience and anxiety about debating," noted Jensen.
Webster also integrates its varsity debaters into the preparation process for this tournament at both the class and team level. This year, John Wallis served as the assistant tournament director, while Olivia Potter was an assistant coach for the POLT 1550 students. Potter won an award as a top critic at the tournament, based on voting by all the competing students.
"The Study Break is one of the most important things we do all year," noted Gina Jensen, director of the Forensic and Debate program. "Anything that helps reinforce the importance of embracing one's voice and learning to advocate for oneself and one's ideas is important. This tournament does exactly that."