Successful Opening Weekend for Forensic and Debate Team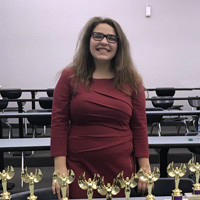 Webster's award-winning Forensic and Debate Team traveled to their first tournament of the season this past weekend at Southwest Baptist University in Bolivar, Missouri, and returned with a number of individual and team awards. The team's 13 awards include a third place team sweepstakes award and two individual sweepstakes awards, along with three individual event championships.
Freshman Laurel Kratz earned second place in the individual sweepstakes competition, called quadrathon. This event requires a student to compete in a minimum of four individual events. She also placed third in the Bright Young Scholar competition, a category recognizing students who competed in both individual and debate events—similar to an Ironman competition. Kratz earned these sweepstakes awards by winning championships in persuasive speaking and interviewing, and earned top novice honors in impromptu speaking and persuasive speaking. She also placed sixth in impromptu speaking.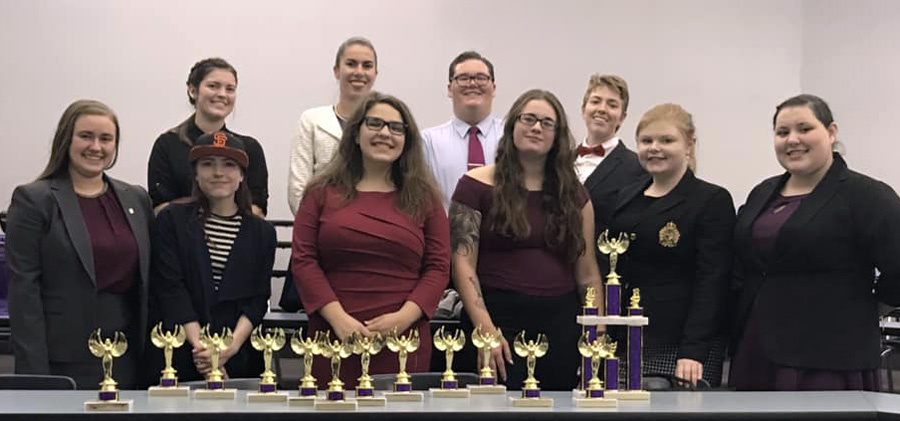 Sophomore John Wallis won the championship in extemporaneous speaking while also placing second in impromptu speaking. Rounding out the awards was a fourth place finish by junior Daniela Piazzi in interviewing.
The 10 students attending this first tournament a part of a team that has more than doubled in size from last year, with the overwhelming majority of team members being novices. "Forensic and debate tournaments are unique in that novices are often recognized for their excellence, but generally compete in single, open divisions," said Gina Jensen, director of Forensics and adjunct professor. "It's the same for teams. There are no divisions that separate colleges and universities."
Jensen further assessed the weekend and upcoming season: "This year's team has returning members who are stepping up as mentors and leaders, but our new faces are eagerly working and leading as well. I am incredibly excited about the potential this team has to excel for not only this year, but also to build a foundation for years to come."
Next Up
The team will travel next to McKendree University Nov. 9-11 for their City of Cedars Tournament. More immediately, the team will be very busy. They will host the season opening tournament for the St. Louis Urban Debate League on Saturday, Oct. 13. The Speech and Debate Club will host the British National Debate Team in a public debate at noon on Oct. 29. The team will also be hosting their annual Trivia Night fundraiser Saturday, Nov. 3 at Sunset Hills Community Center. Contact Jensen for information about any of these events, or for more information about the team or club at jensen@webster.edu.