Forensics and Debate Team Showcase Performance April 26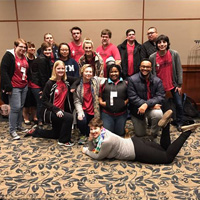 The Webster University Forensics and Debate Team recently ended its season with team sweepstakes awards in all three team categories at the Pi Kappa Delta national tournament in Boise, Idaho.
The national tournament capped off a successful year that also saw the team win its 28th national championship in the past 20 years.
The program will host its annual "Showcase Performance" on Wednesday, April 26, from 12-1 p.m. in the Library Conference Room. The showcase will feature performances that earned national honors, including the national championship. There will also be an opportunity to visit with the student members of the award-winning forensic program after the performances. The general public is welcome to attend. Light refreshments will be provided.
For more information, please contact the head of the program, Gina Jensen, at jensen@webster.edu.