Snapshot: 2016 World Series trophy at Fort Leavenworth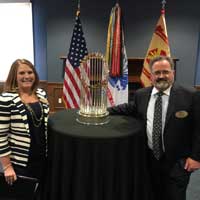 On Dec. 2-3, Midwest regional director Katie Ervin and associate vice president for Military and Governmental Affairs and regional director of National Capital Region Sean Coleman attended the Army University Symposium at Fort Leavenworth, Kansas.
The primary goal of this symposium was to introduce The Army University to civilian academic institutions and begin the development of a shared vision of The Army University as the new Army education enterprise focal point. Over 250 members representing 82 civilian higher education institutions and 31 professional military education
institutions attended the five symposium's panels.

As a special surprise, Ervin and Coleman were able to get their picture with the 2015 World Series trophy. Baseball's reigning champs, the Kansas City Royals, were visiting Fort Leavenworth to honor military members.