Webster Leaders Tour Ft. Leavenworth, Meet Command and General Staff College Leadership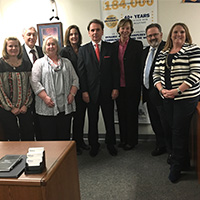 Katie Ervin, Midwest regional director for Webster University, hosted leadership from St. Louis and Washington, D.C. for a tour of the Webster Fort Leavenworth, Kansas, campus location on April 3.
The group met with leadership for the Command and General Staff College and Army University. Leadership members in attendance were:
Julian Schuster, provost, senior vice president, and chief operating officer
Sean Coleman, associate vice president of US Military Campuses
Tom Johnson,

interim dean of the George Herbert Walker School of Business & Technology, associate vice president and chief of Strategic Initiatives

Jennifer Broeder, dean for the College of Arts and Sciences
Brenda Fyfe, dean for the School of Education
During the tour, Doug Tystad, CEO of the (CGSC) Foundation, discussed the history of Fort Leavenworth and showed the group historic homes, former disciplinary barracks, the Buffalo Soldiers Monument and the famous wagon groove from the westward expansion.
The group proceeded to the Lewis & Clark Center which houses the Command and General Staff College. Inside, everyone had a chance to visit the Commander-in-Chief Hall, the Hall of Fame, MacArthur's former office, and the International Hall of Fame. The guests were invited to meet with chief of staff, Jeff Lamoe, who explained the role of the Army and the significance of the Command and General Staff College in developing 21st century leaders.
The afternoon was closed with a visit to the Webster offices and meet and greet with the staff, a few adjunct faculty members and alumni to discuss opportunities for growth at the campus.