Webster Community Access to The Chronicle of Higher Education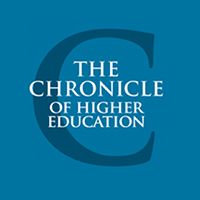 Webster University Libraries and Global Marketing and Communications are partnering to provide everyone in the Webster University community with access to the Chronicle of Higher Education. Community members now have access to the latest articles, past issues, data about higher education, all newsletters (except the Daily Briefing) and more.
Log in with last name and Webster ID number.
Chronicle

of Higher Education
Unlimited access to

The Chronicle's content, daily news, and data, anytime and anywhere.
Special issues such as The Almanac of Higher Education and The Trends Report are included, as well as searchable access to articles and essays dating back to 1989.
Access to Chronicle.com, whether on or off campus, through IP authentication and domain access. Instructions can be found on this page.
IP authentication provides seamless access on campus and proxy authentication for those who navigate to Chronicle.com remotely, via the library.
Domain access allows all students, faculty, and staff to create a free account using their webster.edu email addresses, which syncs with the institution's site license. This account enables full access to Chronicle.com from any device. Additionally, account holders can sign up to receive our free newsletters for the latest news stories and commentary on higher ed.