Snapshots: A Celebration of French and Chinese Cultural Exchange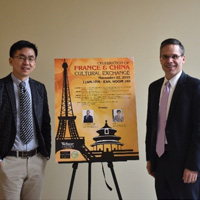 On Nov. 22, the Confucius Institute at Webster University (WUCI) and Centre Francophone teamed up to host the event "A Celebration of French and Chinese Cultural Exchange."
The first guest speaker of this event was Dennis Pruitt, vice president of business development at Missouri Partnership and a lifelong Francophile. Pruitt gave a lively and passionate talk about how his college majors, French and History, have influenced the direction of his life, including in the business world. He talked about how the French language helps him communicate and bring more companies to Missouri, and how the continuous study of French enriches his life.
Following Pruitt's talk, the two members of the Spring Ensemble, a traditional Chinese musical ensemble from Washington University, performed on the guzheng and erhu, two instruments with histories of more than a thousand years. Before the performance, both members introduced themselves in French, Chinese, and English, and afterwards they educated the audience about their instruments.

The final speaker was Ke Ren, assistant professor in Chinese and East Asian History at the College of the Holy Cross in Worcester, Massachusetts. Ren talked about the subject of a book he is currently writing, which traces the professional career and cultural experience of a late-nineteenth century Chinese diplomat who became something of a celebrity in Paris. While this diplomat was praised for his "Frenchness," Ren noted that he also proudly represented China and sought to educate locals about the Chinese way of life, even publishing short stories about China in French magazines. As such, the diplomat sought to bridge the cultural gap between two countries and contribute to the cosmopolitan glamour of the fin de siècle Paris.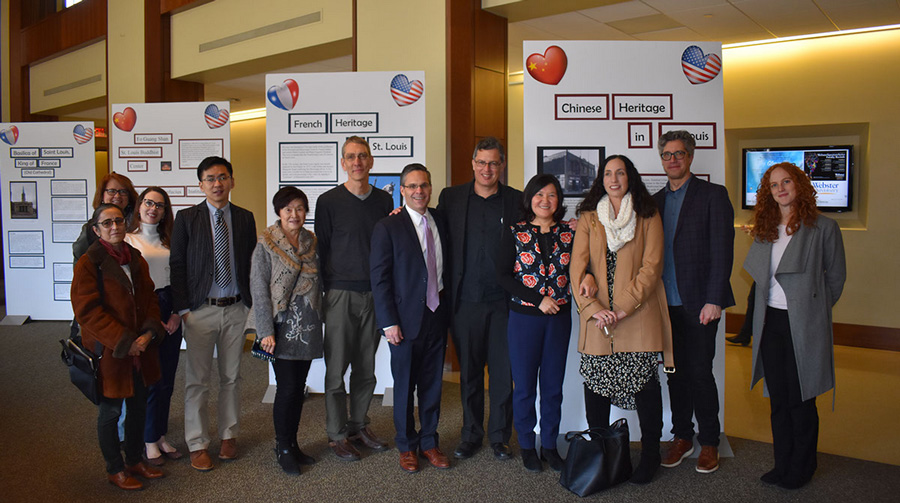 This event culminated with a buffet-style lunch of Chinese dishes and French cheese and desserts. As participants enjoyed their food, they browsed an exhibition of French and Chinese heritage here in St. Louis, learning about the impact of both these cultures on St. Louis today. This exhibition was compiled through the effort of many individuals including Lionel Cuillé, director of the Centre Francophone; Lynette Chen, Chinese history researcher and archivist; Xi Zhao, WUCI's program coordinator, and strong support from Webster University Library staff and broader Chinese community members.
As part of International Education Week, this event brought Webster students closer to two foreign cultures and celebrated the multicultural heritage of this city