Webster Community Invited to Attend Virtual Freshman Writing Award Ceremony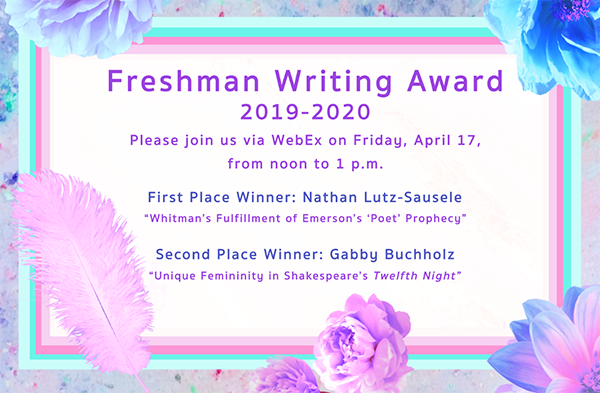 The Freshman Writing Award celebrates academic excellence in writing. It honors two students – a first place winner and a second place winner – each spring. These students must be freshmen during the Fall semester preceding the award and must have written their nominations for a Webster course during the applicable Fall semester. Beyond those details, there are no limitations on the types of written works that may be submitted for the award.
Freshman Writing Award Ceremony
Date: Friday, April 17
Time: noon
"What makes the Freshman Writing Award special is the diversity of writing styles and genres seen in the submissions. We want to celebrate the talent and uniqueness of Freshman writers," said Kristin Cobos, coordinator for Writing and Online Writing Center in the Academic Resource Center.
Typically, faculty who teach eligible freshmen in these Fall semesters nominate students and their written works for the award. However, students may also self-nominate in a process that runs from mid-December to mid-February.
At the close of the nomination period, a judging committee, comprised of faculty, staff, and peer writing coaches, reviews the nominations and selects the two winners. The judging criteria includes effectiveness, clarity, and purpose of writing. These winners are recognized in a ceremony in mid-April of each year.
This year's ceremony, scheduled for noon Friday, April 17, is Webster University's 15th annual Freshman Writing Award Ceremony. Chancellor Elizabeth (Beth) J. Stroble will present the awards. All members of the University community are invited to join the ceremony, which is scheduled for WebEx.
Freshman Writing Award Winners
This year's first place winner, Nathaniel Lutz-Sausele, will be recognized for his essay, "Whitman's Fulfillment of Emerson's 'Poet' Prophecy," which he completed for Dr. Karla Armbruster's U.S. Literature course (ENGL 2050). Lutz-Sausele has received a $125 educational grant.
Second place winner, Gabby Buchholz, will be recognized for her essay, "Unique Femininity in Shakespeare'sTwelfth Night," which she wrote for Dr. Anne McIlhaney's Seminar in Literary Analysis course (ENGL 1900).Buchholz has received a $75 educational grant.