Front-Line Responders Fund Applications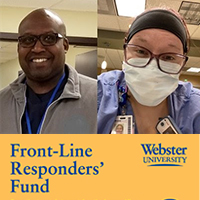 Funded through the generosity of Webster University donors, the Front-Line Responders fund supports enrolled Webster students who are working as healthcare front-line responders while continuing their studies during the pandemic.
The Webster community surpassed the fundraising goal for this fund, as announced at the beginning of the Fall 2020 term.
Eligibility and Application
This is not a financial need-based award, and FAFSA is not required to apply.
Students who are employed as front-line healthcare workers and enrolled in a minimum of six hours
for the Fall 2020 semester are eligible to apply. Interested students should apply for funds by Oct. 15, 2020.
To apply, download the application here [PDF] and submit to Shannon Frank at franksr@webster.edu, Office of Advancement, by Oct. 15.