Webster Ft. Leavenworth Director Leads Red, White, and 'Que-A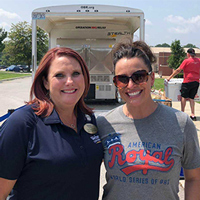 Katie Ervin, director of Webster University's Fort Leavenworth campus location, has been named co-chair of the American Royal's Red, White & 'Que-A Salute to the Military.
Ervin worked with the American Royal and Ft. Leavenworth leadership to host Giving Back to Those Who Give, which provided a free lunch for over 650 service members and their families, Tuesday, Aug. 22. All food was provided by generous donations from Prairie Fresh, American Royal Association, and Reser's Fine Foods. Operation BBQ Relief smoked pulled pork and turkey. During the event, service members learned that Old World Spices, 1,000 tickets are available free to military and their families.
Now Ervin and her team of volunteers alongside the American Royal are putting the finishing touches on the American Royal's Red, White & 'Que-A Salute to the Military on Saturday, Sept. 15. During the event Prairie Fresh Pork and Operation BBQ Relief (OBR) will be serving a hot meal to our honored military guests, as well as VIP BBQ tours for service members, special military recognition during the events to include Leavenworth High School ROTC and celebrating active duty and retired members of the competing BBQ teams. Other events will include rocket launchers, a Bradley fighting vehicle and tent displaying various military weapons.

The American Royal is a non-profit organization based in Kansas City since 1899. They provide opportunities for youth and adults from around the country to compete in our Livestock Show, ProRodeo, and Horse Shows.
Many people know them for the World Series of Barbecue®, which is actually their largest fundraiser. Events including the barbecue allow them to give over $1 million annually for youth scholarships and support agriculture education programs.
Operation BBQ Relief provides compassion and offer hope and friendship to those whose lives have been affected by natural disasters across the United States through their expertise in cooking and catering barbecue meals and their ability to quickly mobilize their teams into any area where nature disrupts and tears apart the lives of Americans.