Kingston Awarded Fulbright, NEH Award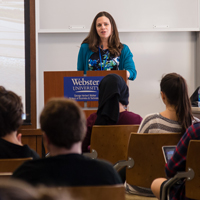 Webster University faculty member Lindsey Kingston has received a Fulbright Lectureship and a National Endowment for the Humanities award, two prestigious honors that will advance her research in the areas of human rights and citizenship.
Kingston is an associate professor of International Human Rights in the Department of History, Politics, and International Relations, part of the Webster University College of Arts & Sciences, where she also serves as director of the Institute for Human Rights and Humanitarian Studies.
Kingston was awarded the 2018 Fulbright Lectureship in International Politics at the University of Milan, Italy. As a Fulbright Scholar, Kingston will conduct research on migration, teach courses on statelessness and social movements, and contribute to the university's academic community. She will be in residence at l'Università degli Studi di Milano during the Italian spring semester, which is March through June.
Kingston was also awarded generous funding from the National Endowment for the Humanities to spend three weeks in residence at the Library of Congress in Washington, D.C. She is one of 20 researchers selected to study "On Native Grounds: Studies of Native American Histories and the Land" in June. Her archival research will focus on issues of indigenous sovereignty and identity.
"Both awards connect to my work on human rights and citizenship in different, but I think certainly related, ways," Kingston said. "I'm writing a book about the intersection between rights protection and what I call 'functioning citizenship'; the book is basically about how and why some people 'count' more than others when it comes to protecting supposedly universal human rights."
That's why being able to teach and conduct research in Italy will be particularly beneficial to her research.
"Important examples of these 'hierarchies of personhood' can be found in the Mediterranean region, where migrants and refuges are desperately seeking entrance into the European Union, as well as in discussions of indigenous sovereignty," Kingston said. "Both of these issues will be featured in the book – and my next project will focus squarely on indigenous sovereignty and cultural genocide, which is where the NEH award will be really incredible motivation."
In addition to the research aspect, there is a personal reason for Kingston to be excited about the Fulbright award: As an Italian-American, she will be working and studying in her grandmother's ancestral hometown.
"My mother's family is from Italy and I'm an Italian-American dual citizen, so this is personally meaningful to me," she said. "I've been lucky enough to spend quite a bit of time in Italy over the years, but I'm most familiar with Southern Italy, including Sicily. It's really special knowing that I'll soon be living and working up north in the city where so many of my relatives called 'home.'"
Kingston, normally based at the home campus in Webster Groves where Webster University was founded in 1915, is currently teaching at Webster's campus in Leiden, the Netherlands, after teaching the Spring 1 term at the campus in Cha Am, Thailand.