Fulbright Scholars from Afghanistan Pursue Ambitions at Webster University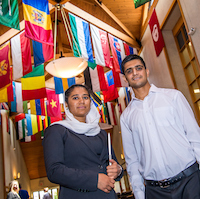 (ST. LOUIS) - Imagine being named one the most promising young scholars in the world, but in order to continue your education, you have to move to a place where the culture, people and even the food is so different, you may not know exactly what dishes are on a menu at a local restaurant.
Two students from Afghanistan have been named Fulbright Scholars, one the most prestigious academic programs in the world, and they have selected Webster Groves campus as the place where they will continue their academic goals.
The Fulbright Scholarship Program, which was founded by Senator J. William Fulbright in 1946 and administered by the U.S. State Department, only selects 8,000 students annually worldwide for the prestigious grant. These two distinguished students chose Webster University for their graduate programs.
Rafi: Civic aspirations for Afghanistan
Mohammad Rafi Cena is a motivated 27-year-old with big plans and dreams to make a difference in his home country of Afghanistan. A native of Afghanistan, he is currently pursuing a master's in Communications Management in the School of Communications. His well-rounded media experience includes a B.A in Journalism and Mass Communications from Herat University.
He was also a Public Relations teacher at Cima Institute of Higher Education, taught English as a second language at Skills Training Center, and a public relations and news manager at Zohal Radio Station, which are all located in Herat. Cena worked as a reporter with Herat National Radio and Television and as a news manager with Taraqi Television Network. Outside of his professional life, he founded the national campaign "Let's Build Afghanistan" and has held a leadership position in the organization "Afghanistan Needs You."
Since moving to the United States, Cena has adapted well and found a sense of community in St. Louis.
"I live with an American family with the purpose of learning American life and culture deeply and to share my Afghan culture with them in a better manner," said Cena.
He has already visited many popular St. Louis attractions such as Forest Park, Missouri History Museum, and the Gateway Arch. "I feel like I have another family in the United States," he said.
He still remains in close contact with his family in Afghanistan and speaks with them once a week using the Viber phone application. His overall experience in the U.S. has been positive, he said, and he calls Americans "people of patience."
Cena was first introduced to Webster University through a Fulbright alumnus who spoke highly about it. As he got acquainted with the university, he immediately got involved in a few student organizations. He volunteers for both Galaxy Radio and Public Relations Student Society of America, and is a member of the Philosophy Coalition, where he wants to share and exchange his culture with others. Overall, he said he enjoys the educational and social environment at Webster. "The people at Webster University are very helpful in every aspect of my life," he said, adding that he hopes to help open a Webster location one day in Afghanistan, as he thinks it could really benefit his country.
After graduation, he plans to return to Afghanistan and puts his Communications Management degree to good use. He wants to establish an organization called Afghanistan-America Public Relations Center, which would encourage transparency in the government, and put citizens' desires and wants in consideration. "I want to help Afghanistan change monologue into dialogue," Cena said, adding he hopes to make connections with experts at the Public Relations Society of America in New York and forge a partnership with them.
Rafi Fun Facts:
Cena wants to travel to every state in America to share and exchange his culture with others.
Dinner time was an adjustment once he landed in the States. He noticed Americans eat dinner early in the day, while in his country it is custom to eat dinner once it's dark outside.
Shabnam: Engaged in service for Afghanistan
Shabnam Granzooy, an ambitious 27-year-old, also a native of Afghanistan. She is dedicated to making a change and serving Afghanistan. She is studying Forensic Accounting in the George Herbert Walker School of Business and Technology for her master's program. She previously received her bachelor's in Business Administration with a specialization in Accounting from American University of Afghanistan.
While constantly working in Kabul for nine years with tremendous energy, Granzooy closely served the Afghan government by working as a translator/interpreter, as she is fluent in four languages. She worked for two years both as translater and later as Head of Audit Unit in the Administrative Office of the President, led by Ashraf Ghani who is also a Fulbright alumnus. Granzooy values the importance of getting an education and believes everyone should have similar opportunities, which is why she spent her time back home teaching impoverished children, ages 5-12, basic reading, writing, and math skills every morning inside her house for several years.
Granzooy's move to the U.S. was an enjoyable adventure, she said. The American family she is living with has been hospitable and took her in like their own. They have done many activities together, such as visiting Forest Park, the St. Louis Zoo, the Missouri Botanical Gardens, Grant's Trial and Tillies Park.
She enjoys trips to Global Foods Market, as she spends some of her free time cooking authentic Afghan cuisine for her American friends and families. Granzooy also enjoys volunteerism and is currently working with her American family on a fundraiser that benefits poverty-stricken people in Haiti.
One of her favorite American experiences so far is having her very first sleepover with her American friends Katie and Michelle. "The sleepover was amazing! We watched movies, played games and ate a lot of food. It felt like a family," she said. She stays in touch with her own family back home once or twice a week through the WhatsApp phone application.
Granzooy said that she has been embraced by friendly and helpful people at Webster University. She appreciates the special treatment from the Multicultural Center and International Student Affairs because they personally greeted and picked her up from the Lambert Airport. "Webster takes care of you before you arrive," she said regarding Webster being in contact with her while she was still in Kabul, before receiving her visa.
Granzooy was initially attracted to Webster's curriculum because it was uniquely designed, impressive, and unlike anything that was offered by other U.S. based universities. When she isn't studying, Granzooy keeps herself busy as a member of several clubs such as Alpha Lambda Pi Accounting Club, Literature Club, Chess Club, member of the Missouri Society of Certified Public Accountants and many more.
Granzooy's post-graduation plans are to return to Afghanistan and fix the market gap. Using her degree, she wants to monitor the flow of money, improve the economic system and invest more in the education sector. She is a strong believer in holding accountability in discrepancies and fighting the cause of corruption. She hopes her transferrable skills will help her achieve the change she wants to see in her country.
Shabnam Fun Facts:
Granzooy

taught herself how to ride a bike while in the United States.
During her training in the University of Delaware, she traveled to Pennsylvania and New York City, where she was surprised to notice American meals are bigger ... and cheese is admired much more.