Students Present, Honored at Gateway Career Services Association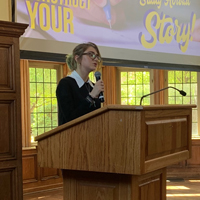 Webster University's Career Planning and Development Center (CPDC) played a major part in the Gateway Career Services Association (GCSA) spring conference, with junior Rea Bedalli leading an afternoon session, senior Rachel Downey receiving a scholarship, and Trezette Dixon moderating a stakeholder panel.
The GCSA is a regional organization composed of career development and employer relations professionals in higher education. John Link, director of Webster's CPDC, serves as GCSA's vice president for Professional Development, and has coordinated four conferences for GCSA, beginning in Spring 2017.
On Friday, April 26, more than 80 career development professionals met for the spring conference, which focused on career and job readiness competencies. Link and the Career Planning & Development Center staff have been working on an integration model for the National Association of Colleges and Employers (NACE) career readiness competencies since May 2018, beginning with aligning the center's individual and group services, resources, programs, and events to nine career and job readiness competencies.
The spring conference gave Link an opportunity to broaden the competency conversation among local career development professionals who aim for similar competency development and integration goals at their institutions.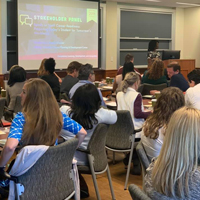 The conference agenda featured competency learning and development interactive sessions, a keynote address from Webster alumna and first chief diversity officer Nicole Roach, and a stakeholder panel moderated by Dixon, who is assistant director for Employer Relations in Webster's CPDC.
During the afternoon session led by Bedalli, the Webster student assisted conference attendees in identifying ways to assist students articulate essential competencies developed through high-impact experiential learning.
Downey, a senior at Webster, was recognized as the Association's 2019 Scholarship Recipient. Downey was selected among a crowded pool of worthy candidates from across Illinois and Missouri.
Link ends his term as vice president for Professional Development in July, where he hopes to begin serving the association as president-elect after being nominated for the post at Friday's conference.