Global Citizenship Program Receives Exemplary Program Award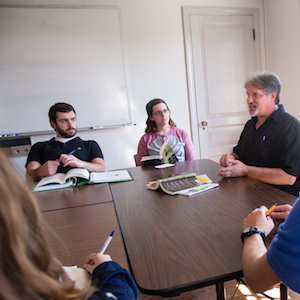 (ST. LOUIS) – Webster University's Global Citizenship Program (GCP) is receiving the Exemplary Program Award from the Association of General and Liberal Studies. The national organization, whose mission is singularly committed to quality general education programs and their central role in the liberal education of students, is honoring Webster's GCP program in the category of "Program Revision or Enhancement."

The award validates extensive, thoughtful work and a multi-year process by Webster faculty to redesign the general education curriculum to better meet 21st-century students' needs.

"This external recognition of our excellence and accomplishments is a significant honor," said Bruce Umbaugh, a philosophy professor in the College of Arts & Sciences and one of the faculty members who helped lead the curriculum redesign. "The GCP is a strong general education program — much, much better than what we were doing before and clearly aligned with our mission. The program is more purposeful, and we can assess and improve it."

Umbaugh said that designing was only half the battle; fitting the program across a university with five schools and colleges and campuses on four continents required the work of many. But that also enabled part of the program's beauty: The key outcomes of the program can be incorporated into courses designed by any Webster school or major.

"In its implementation, we have drawn on so many different parts of Webster for curriculum revision, professional development, and for attention to student learning outside their coursework," he said. "This is an award that pretty much everyone involved in undergraduate education helped Webster to earn."

Webster first began offering a general education program in 1994, but it wasn't until 2009 when members of the faculty decided to overhaul the program so that it better aligned with Webster's mission and the changes resulted in the Global Citizenship Program. The program now aims to arm students with the skills of Critical Thinking, Ethical Reasoning, Intercultural Competence, Oral Communication, Quantitative Literacy, Written Communication, Integrative Learning and Teamwork and with broad knowledge of human cultures and the physical and natural world.

Judges said, "The AGLS Awards Committee voted unanimously to recognize Webster. . . They appreciated the strong connections drawn between the new Global Citizenship Program and Webster's international mission."
A Long Yet Speedy Road

Umbaugh said that the support of the administration and faculty helped the program to be successful – and relatively quickly, too.
"It took three and a half years from the start of the process to the first students in the GCP," he said. "Nationally, it typically takes universities seven years just to get approval for a general education revision. Webster was characteristically ambitious and agile in our approach to the process of general education reform."

From the outset, they sought to create a set of undergraduate degree requirements and a general education program to help prepare students to confront global problems and 21st century challenges.

In 2009 Umbaugh led a small team to learn more about best practices in teaching general education courses, about curricular models, and about how to approach the process. They proposed to the Faculty Senate that a complete reworking of the undergraduate general education program should take place, and the Senate initiated the process that summer.

To complete the Global Citizenship Program, students take two seminars, the First-year Seminar as new students and the Global Keystone Seminar as juniors. In addition, students complete eight courses of at least three credit hours each in the general education portion of their program.

But the work continues, Umbaugh said, as improvements are always being made.

"We have come a tremendous distance and done a lot of good, but there's always more to do," said Umbaugh. "We want to help departments adopt assessment practices for their GCP work that are more authentic and that provide information about teaching and learning that faculty can use to improve what we do for students."
Broadening GCP Impact
In addition to improvements on assessment, Umbaugh would like to help improve communication about the program to students and the committee will be holding open office hours in the University Center and in East Academic Building to answer questions and address students' concerns.

He hopes that this award encourages faculty to spread awareness of the program through their own work.

"We are in a position to do scholarly work on teaching and learning within the Global Citizenship Program framework now," he said "So, we are trying to educate everyone about the possibilities and encourage research, presentation, and publication of what we learn. I know there are several proposals out right now by faculty from multiple colleges for presentations at national conferences based on some of that work. As important as it is to gain recognition in the form of the AGLS Exemplary Program Award, it is even more important for Webster to be seen actively in our disciplines and across disciplinary boundaries contributing to academic understanding of pedagogy and student learning."

The Exemplary Program Awards have been given since 2007. Previously recognized institutions include James Madison University, Portland State University, Miami Dade College, and the Chinese University (Hong Kong).
More information on Webster University's GCP can be found on our website.