GCP Collaboratory: Opportunities to Join Remotely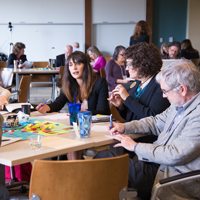 Faculty, students, and staff throughout Webster's worldwide network are invited to tune in for streamed events during the Global Citizenship Collaboratory on May 21-22, 2018.
The plenary events on Monday will be streamed to www.webster.edu/live and participants can also remotely join two concurrent sessions on Tuesday via WebEx.
See the schedule below for details, or visit the Collaboratory website. Those attending in person should RSVP by May 17.
The annual Collaboratory provides a space for the Webster community to share research, collaborate across disciplines, strengthen assessment practices, and explore new directions related to teaching and learning.
This year's Collaboratory theme, "Making Every Course Excellent: Developing Skills to Support Lifelong Success" invites the Webster community to consider the intersections between skills instruction, engaging technologies, student motivation, and continuous improvement.
Sessions Available Online
MONDAY, May 21
9-9:30 a.m. CDT: "We did it ourselves!" — Designing for Impact, Care, and Equity.
Bruce Umbaugh, director, Global Citizenship Program
Location: Browning Auditorium (BH 160), streamed at www.webster.edu/live
9:30-10 a.m. CDT: HLC Criteria and Strengthening Webster: What's Next?
Nancy Hellerud, Vice Provost
Our HLC Comprehensive Evaluation Visit is over, but we learned much during the preparation and the visit that we can put to good use as we work to strengthen Webster academically and financially. Examples include regular program review (Core Component 4.A.1), using data on student retention and completion to make improvements (4.C.3), and processes for systematic planning and improvement (5.C and 5.D). These activities, and others, fit with our strategic plan and with the goals of the initiatives that will be part of the steering committee work to contain cost, increase efficiencies, and generate revenue. Finally, under HLC's Open Pathway's 10-year cycle, institutions now have an Assurance Review four years after a comprehensive evaluation. And 2022 is not that far away!
Location: Browning Auditorium (BH 160), streamed at www.webster.edu/live
10:15-11:30 a.m. CDT: Supporting Course Excellence: Developments in Resources for Learning and Engagement
Carla Colletti, Associate Professor, Dept. of Music
Marissa Cope, Assessment & Accreditation Analyst, Office of Institutional Effectiveness
Erica Ellard, Director, Academic Resource Center
Paul Frazier, Lecturer, Math & Computer Science Dept.
Erik Palmore, Director, Faculty Development Center
Webster University has made several new and continuing investments that support the creation of excellent learning experiences. In this session, we will review the current and future status of various initiatives, many centered around new technologies, that enhance quality learning, teaching efficacy, and student success. Our hope is that attendees will come away with the most up-to-date information about key resources for course excellence that they can use as they prepare for their teaching in the coming weeks and months.
Location: Browning Auditorium (BH 160), streamed at www.webster.edu/live
11:30-12 p.m. CDT: Skills for Lifelong Success: Graduating Students' Perspectives (Student Panel)
Webster University students have a wealth of opportunities, both in and out of the classroom, to acquire skills for lifelong success. Three students who recently graduated will share their perspectives on the components of their Webster experience that fostered their abilities to develop and enhance the skills needed to find employment or be accepted to graduate school.
Location: Browning Auditorium (BH 160), streamed at www.webster.edu/live
---
TUESDAY, May 22
8-9:15 a.m. CDT: EARLY CONCURRENT SESSIONS C
C1. Student Motivation and Equity: How Do We Both Challenge and Support Our Students?
How do we negotiate the tension between challenging our students to offer their best and supporting student needs so that all have opportunities for success? This session draws on the collective knowledge of the Reflective Teaching Community to explore how issues of equity intersect with issues of student engagement and motivation. Students' success in higher education is largely based on their ability to navigate the unwritten rules of the system, advocate for themselves, meet challenges independently, and locate appropriate resources.
This session explores ways that instructors and staff take on guiding roles, helping students navigate the system and its challenges, while also helping develop student agency and self-efficacy to solve problems and direct their own learning. Participants will collaborate to generate strategies for challenging students in a way that supports motivation and agency, and will leave with personal goals to take action on supporting our students as lifelong learners.
Presenters: Carla Colletti, Associate Professor, Dept. of Music; and Liza Dister, Coordinator, Faculty Development Center
Location: EAB 133, streamed via WebEx:
Meeting number: 928 412 062
Meeting password: motivation
C2. Free Resources to Teach GCP Skills and Content
Do you want FREE textbooks or readings to support teaching the GCP skills? Not sure where to start? Join us to learn more about identifying and utilizing open educational resources (including complete textbooks), portions of copyrighted materials, and library resources like articles and datasets in your teaching and how the library can help. We will talk about benefits and challenges of open educational resources and help you decide if they are right for you.
Presenters: Mary Anne Erwin, Distance Learning Librarian; Holly Hubenschmidt, Head of Instruction & Liaison Services; Beth Price, Resources Management Librarian
Location: EAB 137, streamed via WebEx
Meeting number: 924 110 425
Meeting password: libinfo
Visit the Collaboratory website for the full schedule from this year's Collaboratory.