Countdown to May 25: Why GDPR Affects You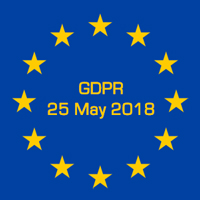 Preparations have been underway for the past year to ensure Webster University's processes will comply with the European Union's General Data Protection Regulation (GDPR) by the compliance deadline of May 25, 2018.
Faculty, staff and students at all Webster University campuses should be aware of how GDPR affects them and their handling of data at Webster.
What is GDPR?
The General Data Protection Regulation (GDPR) (Regulation (EU) 2016/679) is a regulation by which the European Parliament, the Council of the European Union and the European Commission intend to strengthen and unify data protection for all EU citizens and EU residents.
The General Data Protection Regulations (GDPR) will go in effect on May 25, 2018. The regulation is the most far-reaching change to data protection in a generation.
Why does the GDPR affect all staff, faculty and students at Webster University?
The regulation puts individuals in charge of their personal information and allows individuals greater control over the transfer of data as well as who and where personal data is stored. It will fundamentally affect any organization that stores, processes or handles the personal data of all EU citizens and EU residents – irrespective of that organization's size or where in the world it is based.
What is the responsibility of all Webster University campuses?
It places significant new restrictions and responsibilities on Webster University including the responsibilities to:
Build privacy into systems by design (and switched on by default);
Conduct regular privacy impact assessments;
Implement stronger consent mechanisms (particularly when processing data pertaining to minors);
Follow stricter procedures for reporting data breaches; and
Document any use of personal data in far more detail than previously. What happens if Webster University fails to comply with the new regulations?
Failing to comply can result in fines of up to €20 million or 4 percent of annual turnover, whichever is greater.
For further information and continuing updates, visit www.webster.edu/gdpr.