GDPR Privacy Regulation Takes Effect Today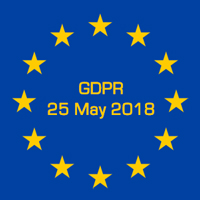 General Data Protection Regulation (GDPR) begins today!
The new regulation governs how organizations collect, store, use, process and transfer the personal data of EU residents. It treats data privacy as a fundamental right for individuals in the European Union.
In order to help with GDPR awareness and compliance, consider the following recommended content for voice mail greetings and signature blocks in emails:
For voice message greetings:
Webster University takes seriously the new General Data Protection Regulation (GDPR) that will affect our students and employees who are EU residents and/or citizens. Please be aware that all personal data you provide are subject to our privacy policy which can be found at www.webster.edu/gdpr. Please leave your name and contact information if you would like us to contact you.
For email signature blocks:
Webster University takes seriously the new General Data Protection Regulation (GDPR) that will affect our students and employees who are EU residents and/or citizens. It is our goal to be sensitive and respectful of your personal information and to adhere to all facets of the GDPR regulation. Please be aware that all personal data you provide are subject to our privacy policy which can be found at www.webster.edu/gdpr.
What is GDPR?
For the latest information, overview of GDPR, and links to privacy policies, visit www.webster.edu/gdpr.