Dance Students Spend Summer Abroad in Geneva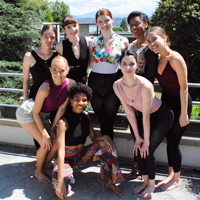 Webster University Department of Dance students are enjoying an eight-week summer course at Webster's Geneva, Switzerland, campus with classes from Ramon Moraes and Estelle Bovay. This new study abroad program for dance is a partnership between the Department of Dance, Webster Geneva, and Conservatoire populaire de musique, danse et théâtre in Geneva.

"This collaboration offers our dance majors a one-of-a-kind opportunity to study European Contemporary Dance in Geneva, Switzerland," says James Robey, associate professor and chair of the Department of Dance. "It is exciting to see them engaging with the faculty, the beautiful campus, and the culture of this amazing city."

During the summer program, students will study with five different international instructors. For the first week, they studied ballet with Webster University alumnus Ramon Moraes. Moraes trained in Brazil at the Royal Ballet of Bahia, under the supervision of Monica Gordilho. In 1998, during the International Dance Seminar of Brasilia, he was one of the leading prize winners, receiving a scholarship for studies in Europe. There he attended the London Studio Centre, Royal Ballet School in London and the Rudra Béjart School in Lausanne.
On several occasions, Maurice Béjart brought Ramon into his dance company casting him in different productions. In May 2001, Moraes joined Sinopia Ensemble de Danse, where he partnered the famous ballerina Marcia Haydée in the ballet created on them (Harold and Maude). He also danced in opera productions with the Grand Theatre de Geneve, and since 2005 Ramon has been teaching dance in Geneva. Moraes holds a BA in International Relations from Webster University and a MSc in Leadership and Development from King's College London. He works in the development/humanitarian sector since 2009.

Students have also been studying with Estelle Bovay, who was born in Geneva and studied dance at the École de Danse Classique de Genève. At age 11 she entered The Royal Ballet School and graduated to join The Royal Ballet company for a season, where she performed works of Petipa, MacMillan, Pite and Peter Wright. She is currently working with the Netherlands Dance Theatre II along with Department of Dance alumnus Donnie Duncan Jr. (2017).
Pictured above (left to right): Webster Dance majors Mysteria Spellazza, Stephanie Borcherding, Jaqueline Edwards, Claire Francescon, Kendall Heuman, Paige Van Nest, Dorianne Thomas, and Alyssa Perez.
Related Info