Webster Geneva Launches Series on Future of Energy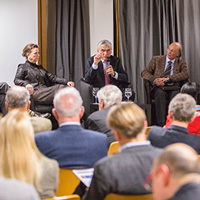 Under the leadership of Rouben Indjikian, lecturer in commodities and trade finance, Webster University Geneva has launched a series of conferences devoted to the future of energy.
The first event on Jan. 19, "What Future for Petroleum?" attracted managers, traders, financiers, consultants and other private sector representatives.
Ian Lundin, chairman of Lundin Petroleum, opened the event with a keynote presentation on the outlook of supply of and demand for crude oil. Following Lundin's introduction, Indjikian moderated an interactive debate between the keynote speaker, other panelists and the audience.
Other panelists included Christine Batruch, vice president for corporate responsibility, Lundin Petroleum; Victor Myakishev, director energy technical, the CIS Region, IHS Markit; and Jan Roelofsen, president of Executive Committee, Geneva Petroleum Club.
Indjikian led the panel in addressing several questions on global trends in the industry, OPEC decisions, and whether the peak in petroleum consumption will come from demand, due to innovation and climate change policies, or from supply, due to reaching the peak of reserves and their gradual decline.
Read more about the event at Webster Geneva's site, and click here for a detailed report [PDF] on the "What Future for Petroleum?" event.