ROC Delegation Visits Webster Geneva for Discussion on Taiwanese Politics, Economy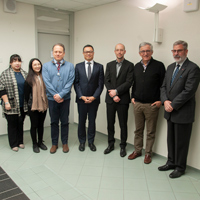 On Jan. 17, a Republic of China (ROC) government delegation visited Webster University Geneva to talk about the political and economic situation of Taiwan following the recent presidential elections.
The delegation was led by Deputy Minister of Mainland Affairs Council, Dr. Ming-Chi Chen, who was accompanied Shih-Fan Lu of the Taipei Delegation/Mission in Geneva and three other officials. Chen is the Deputy Head of ROC's cross-Strait affairs authority and an experienced scholar in Contemporary China Studies in Taiwan.
The ROC's officials met and talked with Capt. James E. Fanell, U.S. Navy ( ret.), f ormer Director of Intelligence and Information Operations for the U.S. Pacific Fleet, U.S. Navy, and Government Fellow at the Geneva Center for Security Policy; Dominique Jolly, Chair of the Walker School of Business & Technology, and Professor of Business Strategy, Webster University Geneva; Lionel P. Fatton, Assistant Professor of International Relations, Webster University Geneva; Oreste Foppiani, Head of the Department of International Relations and Associate Professor of International History & Politics.