Video: International Human Rights Day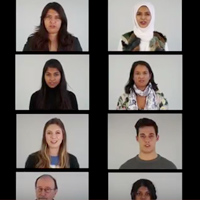 To mark International Human Rights Day on Dec. 10 and the Human Rights Conference organized by the Webster Humanitarian Association on that day, Webster community members at the Geneva campus participated in this video about the Universal Declaration of Human Rights adopted in 1950, the 50th anniversary of the two International Covenants on Human Rights, and their relevance to issues and violations affecting humans around the world today.
During the conference, speakers discussed current human rights issues from a range of perspectives, such as the Global Fund and Amnesty International.
The theme of this year's conference was "Our rights. Our freedom. Always."
Learn more at the Webster Humanitarian Association Facebook page. Watch the video on YouTube or embedded below: