'Meet the Artist' Series Forges Bonds in Geneva Community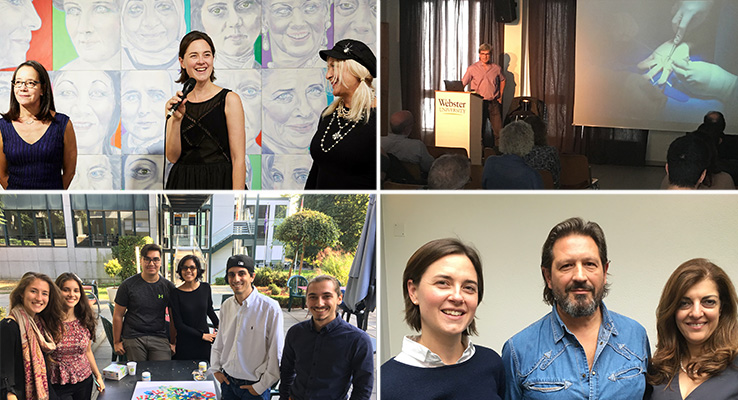 Fifteen visual artists are presenting their work to an audience of the campus community and local guests as part of the second season of Webster Geneva's "Meet the Artists" series.
Apart from providing a platform for visual arts and outreach to the local community, the series was also created to enhance the potential of students to think in critical, creative, and cross-disciplinary ways.
The first event of the season was a special exhibition of artist Sema Jonsson's "100 Portraits of Women Who Inspire," which showcased 100 portraits of female artists, activists, writers, singers, scientists, politicians, businesswomen, humanitarians and philanthropists.
Several presentations this season carry a special interest for students of international relations and human rights. Rodrigo Figueredo, who presented on Oct. 11, has created a militant artform that aims to reveal political and social injustice on a global scale.
"Campus response has been tremendous," says Julianna Sandholm-Bark, who launched the lecture series in March. "Art has an amazing way of bringing people together and opening up the conversation about the nature of creativity and the complex and ever-changing role of the artist in society today, and it's definitely created some interesting conversations on our campus. I'm grateful to my Webster colleagues, students, and loyal attendees from the Geneva area without whose support this new season of Meet the Artist would not be taking place."
The series is hosted by the Global Citizenship Program in collaboration with the Media Communications Department and the Webster Center of Creativity and Innovation (WCCI).
Read more about the series and recent and upcoming artist presentations in this Webster Geneva story.