Webster Geneva 'Meet the Artist' Lecture Series Online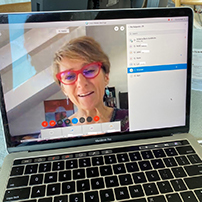 The Geneva campus hosted three of the nine "Meet the Artist" Lecture Series events in an online format. These events would have been scheduled to take place during the spring semester before the campus closed on March 16 due to the COVID-19 pandemic. Devoted to celebrating in-house creative talent, the speakers included painter Tim Young, actor and playwright Gary Bird and writer Amanda Callendrier.
While most of the remaining events for spring were postponed to the fall semester, two events were held via WebEx, in connection with the Keystone Seminar "Art & Social Engagement", taught by Julianna Sandholm-Bark. Both events explored different aspects of how the arts work as powerful forces of both resistance and repair. The first presentation was given by social anthropologist Katarzyna Grabska, who spoke about the role played by art and music in the Sudanese revolutions of 2018-19.
The second event was an interactive discussion about photojournalism, led by photographer Gregory Pepper and curator and Webster alumnus Iraj Nabavi. The Meet the Artist Lecture Series, which just celebrated its second-year anniversary in March, has hosted a total of 36 lectures.
Past presentations are available through these links:
Meet the Artist
24 artist interviews podcast
Meet The Artist Series
Born out of a desire to bring more artistic content to the Webster community and general public, the first year of the series focused exclusively on the visual arts. Since then the lecture series has evolved to reflect the broader needs of the Global Citizenship Program as a whole, as demonstrated by the eight events that took place in fall 2019. A new series of events for the academic year 2020-21 is currently in preparation, and will be available shortly through the website webster.ch/events/meet_the_artist.
For any questions about the series please contact Julianna Sandholm-Bark at julianna.bark@webster.ch