Webster Geneva Refugee Simulation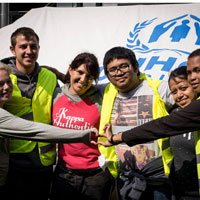 With the plight of refugees a pressing topic in global news and Europe facing its biggest refugee crisis since World War II, seven Webster Geneva students recently participated in a refugee simulation to elicit insights and raise awareness of the global crisis among the broader student body.
The simulation, organized by the Webster Humanitarian Association (WHA) and held on the Geneva campus, left a powerful impact on each of the participating students.
"It was worthwhile, challenging and humbling at the same time," said Michael Artigues, a Webster Geneva Study Abroad student. "The whole experience was more immersive than I had anticipated and I come out with a greater appreciation of what it would be like to be a refugee."
Throughout the four-day simulation, the student refugees prepared all their own food over a campfire with firewood they collected from the nearby forest. They fetched water for cooking, washing and drinking from a village about a kilometre away, simulating what it would be like to have to search for clean drinking water. They heard talks from professionals in the refugee and migration field and participated in simulation activities aimed to get them thinking about what life would really be like for a refugee.
One simulation was a raid on the camp where they had only 30 seconds to pack up everything they needed. "We packed up everything we thought we'd need to survive ... in the end though we probably wouldn't make it through the night," they said.
The simulation is designed to challenge the students both mentally and physically, testing them to their limits.
"The hardest part was imagining what it would be like if this was a real situation" said Ron Bert Lomada, a Webster senior at the Geneva campus, "if all the activities we took part in were real life and I had to fear for the security of my family members every time they went to collect water or firewood."
More about the Simulation