Webster Geneva Hosts International Conference on Trauma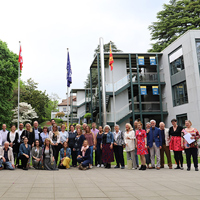 Webster University's Geneva campus hosted a two-day international conference at the end of April on trauma with a wide range of experts, researchers, practitioners and general participants interested in understanding and alleviating human suffering. The event was co-organized by the Department of Psychology at Webster Geneva and Counselling and the Global Initiative for Stress and Trauma Treatment (GIST-T).
Webster University faculty from multiple campuses were among the speakers, panelists and workshop leaders covering such topics as collective trauma, anger and revenge, trauma and imagination, trauma from war, displacement or gender-based violence, and more.
The conference provided an ideal platform for exchanging ideas and learning from other people's experience, with space for dialogue, curiosity and joint exploration of some of the deepest questions faced by counselors, psychologists and aid professionals alike.
Read more about the program, the participants and their presentations at Webster Geneva.