U.S.-Iran: Geneva panel on politics of confrontation, escalation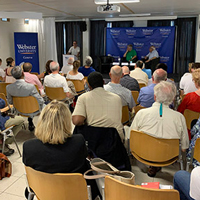 The International Relations Department at Webster University Geneva hosted a panel of experts discussing the escalation of tensions between the United States and Iran in the Persian Gulf region.
Department head Jubin Goodarzi, associate professor at Webster Geneva, chaired the discussion with Bijan Djalili, professor of international history from the Graduate Institute of International and Development Studies (IUHEID), and Francis Piccand, chief of the Research and Analysis Center at the Swiss Federal Department of Foreign Affairs.
The panelists discussed the current crisis that has been building since May 2018, when U.S. President Donald Trump announced that the United States would withdraw from the 2015 Iran Nuclear Agreement (JCPOA) and impose sweeping sanctions on Iran, in conflict with the other signatories to the agreement. As the economic sanctions have taken hold, Tehran has responded by signaling it would no longer be bound by the terms of the JCPOA, and has taken steps to expand its nuclear program and to assert itself in the Middle East, leading to heightened tensions.
Piccand stated that Iran would not gain anything by violating the JCPOA and taking steps to build a nuclear weapon. He also questioned whether Washington has a coherent policy on Iran, and asserted that an American military strike on Iran would strengthen the position of hardliners in Tehran who believed that acquiring a nuclear weapon was imperative.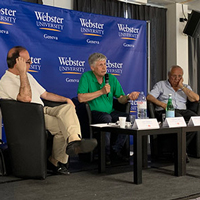 Professor Djalili believed that the Trump administration had made a mistake by abandoning the JCPOA and by pursuing an aggressive and confrontational policy toward Iran. Concomitantly, he warned that Iran's moves by breaching the 300 kg threshold on enriched uranium and by resuming work on the heavy water reactor at Arak were counterproductive.
He also highlighted the fact that irrespective of the escalating tensions with the U.S. and the toll that the sanctions are taking on the country, Iran was already facing three major, largely self-inflicted domestic crises: declining political legitimacy for the ruling clerics, socio-economic consequences of the government's mismanagement of the economy, and an ecological crisis exemplified by the shortage of water supplies.
In his presentation, Goodarzi posited that the current crisis could have been avoided. Although Donald Trump had stated from the very outset, even during his 2016 presidential campaign, that he would abandon the JCPOA negotiated by the Obama administration, he did not do so for almost one-and-a-half years after he assumed office. The situation had been exacerbated by the fact that many of the pragmatic people around Trump such as Rex Tillerson and General H.R. McMaster had left, and their successors, Mike Pompeo and John Bolton, were hardline hawks, bent on regime change in Iran. Goodarzi warned that due to the absence of direct channels of communication, there is a greater risk of miscalculations escalating into a war even if neither side seeks a military confrontation.
Read more on the panelists' comments at the event in this Webster Geneva story.